Puppet Masters
BBC
Tue, 17 Jul 2007 22:57 UTC
One man has been sentenced to death and 28 others jailed for their roles in a slave labour scandal at brick factories in northern China.
---
Ros Taylor details key events before and after the death of former Russian spy Alexander Litvinenko
---
Admissions of the Israeli spy network members arrested in Lebanon in 2004 unveiled the Israeli Intelligence service Mossad involvement in assassinating former Lebanese Minister Eli Hbeika and three bodyguards in a car bomb explosion, the Lebanon News Agency reported yesterday.
---
Ali Waked
Ynet
Sat, 14 Jul 2007 13:51 UTC
France has recently warned Israel not to harm Hizbullah members participating in a convention of Lebanese groups being held near Paris these days.

The Kuwaiti newspaper Al-Seyassah reported Saturday that the French government told Israel an attempt to harm any of the Hizbullah delegates would hinder relations between the countries.

According to the report, the warning was issued after French intelligence received information saying Mossad was planning to attack Hizbullah and Amal (Lebanese Resistance Detachments) representatives at the conference.
---
AFP
Fri, 13 Jul 2007 11:22 UTC
Malaysia's main Islamic opposition party will only field candidates for the upcoming general elections who do not smoke or are willing to kick the habit, its leader said.

The Pan-Malaysia Islamic (PAS) party's spiritual leader Nik Abdul Aziz Nik Mat said smoking was un-Islamic and people who smoked did not fully understand Islam, state Bernama news agency reported late Thursday.

"Some Muslims consider smoking haram (forbidden)," the elderly religious leader said.

"I prefer to choose candidates who do not smoke. By now they should understand the party's requirements that to contest in the election, they must have the characteristics of a true Islamic leader," he said.
---
David Edwards and Muriel Kane
Raw Story
Thu, 12 Jul 2007 11:19 UTC
Fox News on Thursday asked Neoconservative Bill Kristol to comment on the interim progress report on Iraq, which is about to be released and is expected to show an even split between benchmarks which show progress and those which do not.

"They're silly benchmarks, a lot of them," said Kristol. "The military situation is better than anyone expected. ... If Bush can just hang on there and beat back the people in Congress who want to snatch defeat out of the jaws of possible success ... I think we're going to win this war."
---
ALEXA OLESEN
AP
Tue, 10 Jul 2007 08:55 UTC
China executed the former head of its food and drug watchdog on Tuesday for approving untested medicine in exchange for cash, the strongest signal yet from Beijing that it is serious about tackling its product safety crisis.
---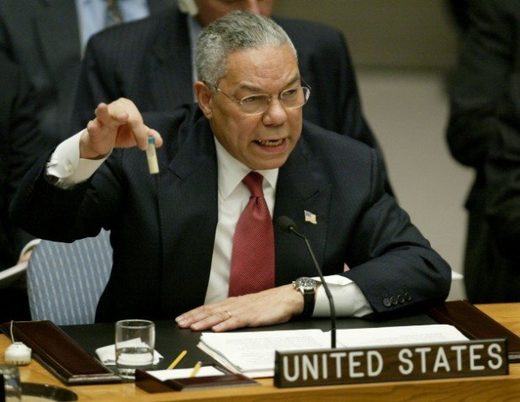 The former American secretary of state Colin Powell has revealed that he spent 2½ hours vainly trying to persuade President George W Bush not to invade Iraq and believes today's conflict cannot be resolved by US forces.
"I tried to avoid this war," Powell said at the Aspen Ideas Festival in Colorado. "I took him through the consequences of going into an Arab country and becoming the occupiers."
Powell has become increasingly outspoken about the level of violence in Iraq, which he believes is in a state of civil war. "The civil war will ultimately be resolved by a test of arms," he said. "It's not going to be pretty to watch, but I don't know any way to avoid it. It is happening now."
He added: "It is not a civil war that can be put down or solved by the armed forces of the United States." All the military could do, Powell suggested, was put "a heavier lid on this pot of boiling sectarian stew".
---
And now I am absolutely convinced that these armed men, so called "Al Qaeda", them along with the cars bombs, with the sectarian militias and their torture centers and their drills...are paid, trained and ordered by an American - Mossad - Iranian consortium to apply Bremer's policy: " Let us bring them down to 5 million."
---
Tom Baldwin
The Times
Thu, 05 Jul 2007 14:37 UTC
As if raising and waving millions of Stars and Stripes was not patriotic enough at Independence Day celebrations yesterday, the flags now have to be made in the US.

The state of Minnesota has taken the most draconian action, requiring all US flags sold in the state to be of American manufacture. Violations of the law, which comes into force at the end of the year, will be punished by a $1,000 (£495) fine or 90 days in jail.

From this month, schools and colleges in Arizona are being forced to equip every classroom with a US-made Stars and Stripes - sometimes known as "Old Glory".

Tennessee state law already stipulates that any US flag bought with public money cannot be imported from another country, while similar Bills are being considered by legislators in New Jersey and Pennsylvania.

Comment: "Nothing is more embarrassing to me than a plastic flag made in China. This replica of freedom we so respect should be made in this country . . ."

What a joke. Tom Rukavina embarrassed with a piece of colored fabric, while he should be dead embarrassed by the actions of psychopathic US Administration promoting this "respected freedom".


---