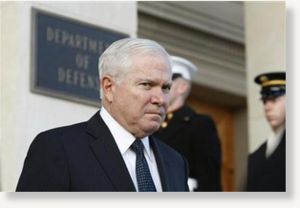 The United States may have to scrap some military missions and trim troop levels if President Barack Obama sticks with his goal of saving $400 billion on security spending over a 10-year period, the Pentagon said on Wednesday.
Arms makers' shares sold off after Obama made a speech on the budget deficit in which he called, in effect, for holding growth in the Pentagon's core budget, excluding war costs, below inflation through 2023, starting in fiscal 2013.
The squeeze on the Pentagon's budget, which has roughly doubled since 2001, is part of a larger drive to cut the budget deficit by $4 trillion over the 10-year period.
Standard & Poor's aerospace and defense index declined 0.9 percent on Wednesday, underperforming the S & P 500 index, which closed up .02 percent. Lockheed Martin Corp, the Pentagon's No. 1 supplier by sales, dropped 2.6 percent to close at $80.37 on the New York Stock Exchange.
"It's not just a math exercise which is 'cut $400 billion'," said Geoff Morrell, the Pentagon press secretary. "It's 'let's review our roles and our missions and see what we can forgo, or pare down, in this age of fiscal constraint, where we are all collectively trying to work with the deficit problem.'"
Analysts said a selloff of arms makers' shares was an overreaction.