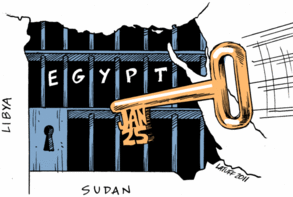 US imperial policy includes regime change, affecting foes as well as no longer useful friends. Past targets included former Philippines leader Ferdinand Marcos, Iran's Shah ( Mohammad Reza Pahlavi), and Iraq's Saddam Hussein, among others. According to some reports, Mubarak is next - aging, damaged and expendable.
George Friedman runs Stratfor, a private global intelligence service. On January 29, he issued a special Egypt report, saying:
On January 29, "Egypt's internal security forces (including Central Security Forces anti-riot paramilitaries) were glaringly absent" after confronting protesters forcefully for several days. Army personnel replaced them. Demonstrators welcomed them.
"There is more (going on) than meets the eye." While media reports focus on reform, democracy and human rights, "revolutions, including this one, are made up of many more actors than (Facebook and Twitter) liberal voices...." Some are, in fact, suspect, using social network sites for other than purported reasons.