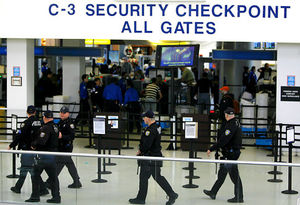 I have to wonder were these suspicious packages an inside job by factions inside the government to justify more control over the American People? We have to ask the question. Who stands to gain from these incidents? Sept 11,2001 gave us the Patriot act, Homeland Security and the Transportation Security Administration. The Underwear Bomber on Christmas day a little over a year ago on a flight from Amsterdam to Detroit gave us full body scanners.
Homeland security recently ordered
all international shipments over a certain weight to have a Social Security Number
on the package. Weeks before there was a possible threat I believe was exaggerated was the
ink in printer cartridges might be a bomb
. We heard our
Coleman thermoses might be a weapon of mass destruction
even though there was no credible threat to substantiate it. They put out the alert this Christmas even though there were no credible threats.
Wal Mart has teamed up with Homeland Security using giant TV screens in stores nationwide telling the people shopping for Christmas to spy on there neighbors with "if you see something say something" talking points. This is right after the TSA abuses at airports, that have had the nation in an uproar ready to revolt.
Now just recently we had an
incendiary device go off in a DC post office
addressed to Homeland Security. A couple of days prior to that there were two packages detonated outside of a Maryland government office. There were only minor injuries and no deaths. Why all this?
I see now the more the Department of Homeland Security talks and announces that what the TSA did in our nations airports.The TSA and DHS want to go out on the streets of American going into bus stations, interstates, sports stadiums, shopping malls and maybe your county fair.
They are up to something and have something up their sleeve to justify this action.