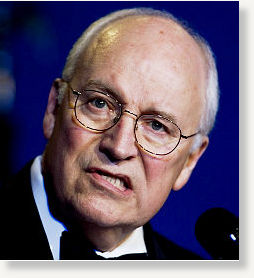 Welcome to the undisclosed location.
Known familiarly to government insiders as the "underground Pentagon," this is where Vice President Dick Cheney set up shop in the aftermath of the attacks on Sept. 11, 2001, and where he sometimes is when his office is being secretive about Cheney's whereabouts.
The location is a highly secure complex of buildings inside Raven Rock Mountain near Blue Ridge Summit, Pa., close to the Maryland-Pennsylvania state line and about seven miles north of Camp David.
A recent book,
A Pretext for War: 9/11, Iraq, and the Abuse of America's Intelligence Agencies
, by James Bamford, was credited with spilling the beans about the supposedly supersecret hideaway.
Still, there is great sensitivity about the compound, as emphasized to an uninvited reporter the other day who was inadvertently allowed to briefly enter a guardhouse.
"I work physical security at an undisclosed location in southern Pennsylvania, that's all I can say," said a well-armed fatigues-clad Army guard as he politely but firmly told the reporter that "everything you see is classified."
There is not all that much to be seen.