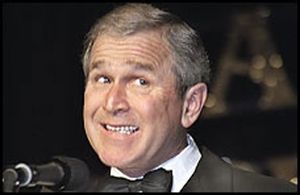 Former US Secretary of Defense Donald Rumsfeld says in his memoirs that ex-President George W.
Bush ordered the Iraq war just two weeks after September 11
.
In his autobiography scheduled to be released on February 8, Rumsfeld writes that 15 days after 9/11, when Pentagon's focus was on Afghan war, Bush called him to his office and ordered a review plans for Iraq war.
"Two weeks after the worst terror attacks in our nation's history, those of us in the Department of Defense were full occupied," but Bush called for a "creative" option for invading Iraq, The Huffington Post reported on Thursday.
However, Rumsfeld says Iraq war has been worth the costs and offers no apology for the way he handled the conflict.
He says if former Iraqi President Saddam Hussein's regime was not ousted, the Middle East would be "far more perilous than it is today."