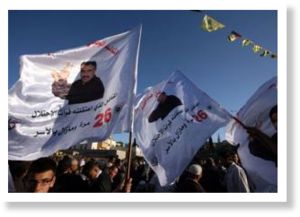 An Israeli military court on Monday rejected appeals by two Palestinian prisoners who have been refusing food for 55 days, their lawyer and a Palestinian prisoner rights NGO said.
"We just confirmed with Bilal Diab and Thaer Halahla's families that both their appeals were rejected today," a spokeswoman for prisoner rights group Addameer said.
Diab, 27, and Halahla, 34, began refusing food on February 29 in protest at being held without charge under a procedure known as administrative detention, which means they can be held for renewable periods of up to six months.
They are being held in the hospital wing of Ramle prison near Tel Aviv, with their condition described as "rapidly deteriorating."
Their lawyer, Jamil al-Khatib, confirmed the military judge had rejected their appeals after holding a closed meeting with members of Israel's Shin Bet internal security service and the military advocate general.