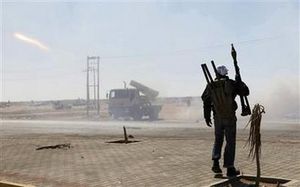 Tripoli - France and Britain, who first launched air attacks on Libya in coalition with the United States, Tuesday criticized NATO'S bombing campaign, saying it must do more to stop Muammar Gaddafi bombarding civilians.
NATO took over air operations from the three nations on March 31 but heavy government bombardment of the besieged western city of Misrata has continued unabated with hundreds of civilians reported killed.
The criticism by London and Paris followed new shelling of Misrata Monday and the collapse of an African Union peace initiative.
Echoing rebel complaints, Alain Juppe told France Info radio, "It's not enough."
He said NATO must stop Gaddafi shelling civilians and take out heavy weapons bombarding Misrata. In a barbed reference to the alliance command of the operation, Juppe added: "NATO must play its role fully. It wanted to take the lead in operations, we accepted that."