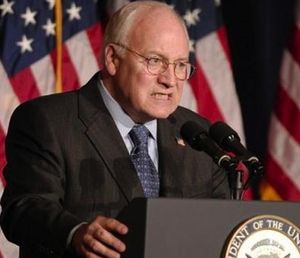 Bush court dismisses 9/11 suit against Bush officials, orders sanctions
Rather than judicially review significant evidence in the events of September 11, 2001, on April 27, the 2nd Circuit Court of Appeals upheld a lower court's dismissal of an Army Specialist's complaint against former Vice President Dick Cheney, former Secretary of Defense Donald Rumsfeld, and former Chairman of the Joint Chiefs of Staff, Richard Myers.
One of Plaintiff April Gallop's attorneys, William Veale, didn't know whether to relate the decision to "Kafka, Orwell, Carroll, or Huxley," referring to the absurdity and dearth of reason emanating from the court regarding the deadliest attack on U.S. soil the nation has ever faced.
"The Court's decision, analogous to reviewing an Indictment in a liquor store hold-up without mentioning the guy walking in with a gun, refuses to acknowledge even the existence of the three defendants much less what they were doing that morning or saying about it afterwards," Veale added.