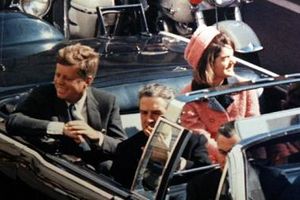 The
New York Times
, on October 17, published a page-one story by Scott Shane about the CIA's defiance of a court order to release documents pertaining to the John F. Kennedy assassination, in its so-called Joannides file. George Joannides was the CIA case officer for a Cuban exile group that made headlines in 1963 by its public engagements with Lee Harvey Oswald, just a few weeks before Oswald allegedly killed Kennedy. For over six years a former
Washington Post
reporter, Jefferson Morley, has been suing the CIA for the release of these documents.
1
Sometimes the way that a news item is reported can be more newsworthy than the item itself. A notorious example was the 1971 publication of the Pentagon Papers (documents far too detailed for most people to read) on the front page of the
New York Times
.
The October 17
Times
story was another such example.
It revealed, perhaps for the first time in any major U.S. newspaper, that the CIA has been deceiving the public about its own relationship to the JFK assassination.
On the Kennedy assassination, the deceptions began in 1964 with the Warren Commission. The C.I.A. hid its schemes to kill Fidel Castro and its ties to the anti-Castro Directorio Revolucionario Estudantil, or Cuban Student Directorate, which received $50,000 a month in C.I.A. support during 1963.

In August 1963, Oswald visited a New Orleans shop owned by a directorate official, feigning sympathy with the group's goal of ousting Mr. Castro. A few days later, directorate members found Oswald handing out pro-Castro pamphlets and got into a brawl with him. Later that month, he debated the anti-Castro Cubans on a local radio station.