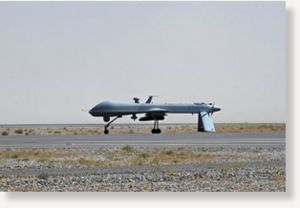 At least 25 people have been killed in yet another unauthorized US drone attack on the tribal village of Miranshah in northwestern Pakistan.
Officials reported that the non-UN-sanctioned attack by a US drone took place at 4:30 a.m. (2030 GMT) Friday, a Press TV correspondent reported.
The drone fired six missiles at a house destroying it completely. The death toll may rise as rescue operation is underway to get people from the collapsed building.
The US drone continued flying over the area after the attack, creating panic among the local residents. Miranshah attack raised the number of US drone strikes in North Waziristan Agency to 21 in 2011.
Reports indicate that the unmanned drone strikes in Pakistan's northwest tribal belt have claimed the lives of more than 1,180 people in 2010 alone.