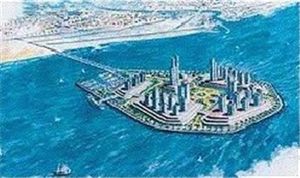 Israel's Channel 2 has revealed an Israeli government plan to set up an artificial "man-made" island off the coast of the Gaza Strip, to be under the control of the Palestinian Authority.
The plan, as reported, was formulated and schemed by the Israeli Minster of Transportation Yaakov Katz, guided and godfathered by Israeli Prime Minster Benjamin Netanyahu. Apparently, the idea has been formulated and detailed by a team of experts for quite some time -- three months according to the report.
The island is planned to sit some 4.5 kilometers from Gaza's shores, and to include Palestinian-operated sea and air ports, tourist accommodation areas, and a desalination plant. The dimensions of the island are drawn at four by two kilometers linked to mainland Gaza by a 4.5 kilometer bridge.