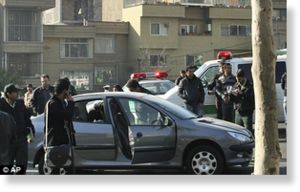 An Iranian nuclear scientist has been killed and another injured in separate attacks in Tehran today.
The scientists were targeted in two different locations by men riding motorcycles who attached bombs to their car windows as they drove to work.
One device killed Dr Majid Shahriari, a member of the nuclear engineering faculty at the Tehran University, and wounded his wife.
The second blast seriously wounded nuclear physicist Dr Fereidoun Abbasi. His wife was also injured.
Iran's nuclear chief, Ali Akbar Salehi, said Dr Shahriari was involved in a major project at the country's chief nuclear agency, though he did not give specifics.
State television swiftly blamed Israel for the attacks.