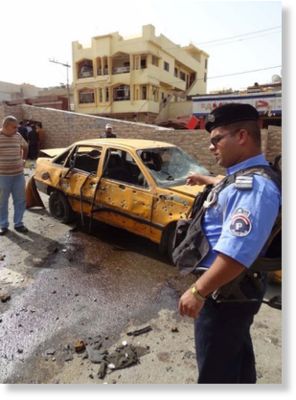 Baghdad - At least 15 people were killed and dozens wounded when insurgents launched attacks in central and northern Iraq on Thursday, the latest wave of scattered but persistent strikes aimed at undermining the government's authority.
More than 100 people have been killed in violence across the country since the start of August, showing that insurgents led by al-Qaida's Iraqi franchise remain a lethal force eight months after the last U.S. troops left the country.
Thursday's carnage began with a predawn attack against the house of a military officer. Militants planted four bombs around his house near the northern city of Kirkuk, according to the city's police commander Brig. Gen. Sarhad Qadir. The officer escaped unharmed, but his brother was killed and six other family members were wounded.
Hours later, a bomb in a parked car exploded near a string of restaurants, killing one and wounding 15, Qadir said. The blast seriously damaged the eateries' storefronts, scattering shattered glass and debris across the sidewalk.
Another parked car bomb targeting a police patrol followed, injuring two policemen and two civilian bystanders.
A couple hours later, two car bombs exploded simultaneously in a parking lot near a complex of government offices in the city's north, injuring four people.