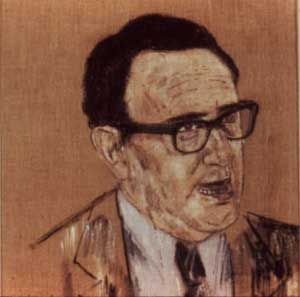 Oh God protect us, Henry Kissinger is back!
Henry Kissinger
was President Richard Nixon's National Security Advisor and then Secretary of State. He also held the latter position under President Gerald Ford. While it would be unfair to characterize him as someone who never gave a piece of good advice (he did encourage Nixon to engage in Detente with the Soviet Union), his record weighs heavily on the side of unwise counsel. As we will see he is back in exactly that role, plying bad advice that, in this case, could further erode America's already messed up intelligence agencies.
Kissinger was originally an academic. His doctoral dissertation was on the diplomacy of two early 19th century statesmen, Britain's Viscount Robert Castlereagh and Austria's Prince Klemens von Metternich. These men were major players at the great
Congress of Vienna
that took place after the final defeat of Napoleon in 1815. At that meeting Metternich argued for returning Europe to its pre French Revolution political status. Pursuing that impossible end, he backed repressive policies and regimes. One gets the impression that the history of Kissinger's public service was, at least in part, an effort to achieve the stature of a Metternich. Toward this end Kissinger would pursue "realpolitik" which, more often than not in its American manifestation, entailed the backing of repressive policies and regimes.