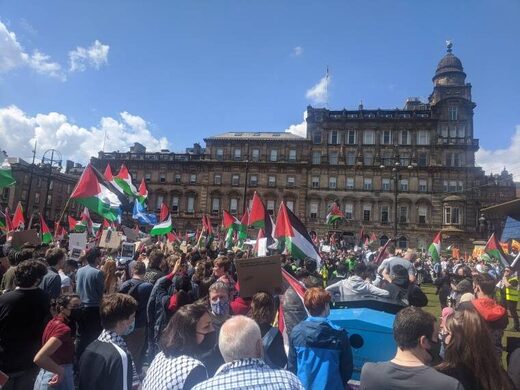 Western media and politicians are now firmly coalesced around the Israeli government narrative. Israel is unwillingly fighting a war of self-defence in Gaza after hostilities were commenced by aggressive Hamas military attack.
The storming of Al Aqsa mosque, the shooting at people in prayer, the right wing mobs attacking East Jerusalem, the Krystallnacht style destruction of Palestinian businesses and lynching of Arab Israelis
, none of that ever happened at all. What happened was that Hamas launched a missile war and Israel was obliged, ever so reluctantly, to exercise its right of self defence, with enormous care not to hit civilians, except that, entirely accidentally,
the IDF has killed a couple of hundred civilians including scores of children
.
Palestinians die in the passive tense in western media. The media always says they "have died"; they were never "killed", and there is virtually never any attribution of the death. By contrast, Israelis are active tense "killed by Hamas" or "killed by missile strikes". Look out for this journalistic sophistry - once you see it, you can't unsee it.