Originally published in the July-August 2010 issue of The Dot Connector Magazine.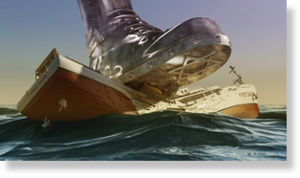 At approximately 4am on May 31st 2010, a group of vessels attempting to deliver humanitarian aid to Gaza were attacked by the Israeli navy in international waters off the coast of the occupied Palestinian territories. Nine civilians aboard the largest vessel, the
Mavi Marmara
, were shot dead by Israeli soldiers and dozens more were wounded. The Israeli government claimed it was exercising its right to self defence. Flotilla members, and much of the international community, saw it as an act of piracy and murder on the high seas that has exposed deep flaws in the Israeli mentality and further alienated it from the rest of the world.