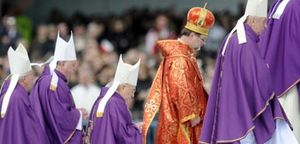 When Pat Bond told her lover Henry Willenborg, a Franciscan priest, that she was pregnant, he urged her to have an abortion.
Bond, who was 28, had a miscarriage and then became pregnant again. This time Willenborg's superiors urged her to give up the child for adoption.
Bond, from Missouri, kept the child but agreed to a vow of silence. In a signed contract with the Catholic Church, she undertook to keep the priest's identity secret in exchange for financial support for her son, Nathan.
In America, Britain, Ireland, Germany, France, Italy and Austria, women made pregnant by priests have signed such pledges in exchange for hush money from the church.