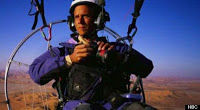 Ag-gag laws are cropping up like Whac-a-Mole across the states in an attempt to protect large-scale farming and cattle operations from those pesky activists who find out about abuse and cruelty. Instead of addressing the systemic issue of
transparency and animal/food safety
, lobbying leads to more laws that inhibit the freedom to speak out about dismal conditions - clear 1st Amendment violations. Always in the name of "safety" and protecting trade secrets. It's one thing to keep people from committing theft, destruction of property, breaking and entering, intellectual property theft and privacy violations - which basic laws support. But it's wholly another to prosecute well-intentioned tourists or
try peaceful protesters as terrorists
.
The latest to get burned is prominent world photographer and freelancer for
National Geographic
, George Steinmetz. He often gets government clearance to roam the airways for his aerial photography and uses a motorized paraglider with parachute and what looks like a lawn chair.
Even though the ensuing brief arrest on June 28th, and $270 bail each stems from trespassing, the underlying cause (fear) and reason for phone call to the sheriff appear to stem from upholding the
Farm Animal and Field Crop and Research Facilities Protection Act
. It was one of the first state laws of its kind enacted in 1990 and criminalizes farm photography.