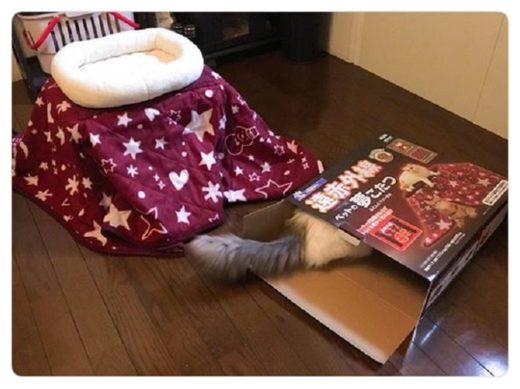 First, let's take a moment to introduce one of Japan's greatest products: the
kotatsu
.
A staple of Japanese homes, the
kotatsu
is a heated table that can function as an ordinary surface space in the summer and transform into your own personal heaven-on-earth in the winter. Just throw a special futon blanket on top, switch on the heater, and stick your legs underneath for a blissfully toasty experience that is further enhanced while watching the snow fall outside.
One of the coolest things about
kotatsu
is that they come in all shapes and sizes. Some of the more unusual designs we've seen include
movie theater versions
and even a
tiny kotatsu for one
. But despite the variety, even we were a bit surprised to learn that there are
kotatsu
out there not just for us but for our furry friends as well!
Japanese Twitter user
@usagi_drive
recently purchased one such special pet
kotatsu
for her cat. It seemed like a foolproof idea at the time-cats love curling up in warm and cozy places, so what could her pet possibly not like about it? As it turned out, she forgot to factor in the simple fact that it's a
cat
we're talking about:
"I bought a cat kotatsu! I'm so glad that he seems to like it."
Yes, that tweet was laced with more than a little sarcasm. Poor @usagi_drive...she was so excited to give her cat such a wonderful gift, only to become increasingly frustrated as he ignored it for the cardboard box instead (ah yes-classic cat play).