CANNONBALL, N.D. - When Beverly and Ernie Fischer gathered up their cattle this fall in Morton County, they rounded up a little more than they expected. We were moving some cattle, and we got a moose," Ernie Fischer said. "He thinks he is a cow," said his wife.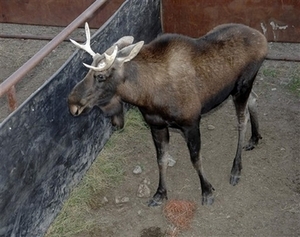 ©(AP Photo/Bismarck Tribune, Will Kincaid)
A young bull moose looks over his new enclosure on the Cannonball Ranch in southern Morton County, N.D., Wednesday, Oct. 3, 2007. Ranch Manager Ernie Fisher noticed a broken fence earlier in the day and later on discovered the bull moose in the cow pens with the cattle. Fischer said it was difficult to get the young bull moose away from the cattle, and workers put it in a separate corral until it could be released.