Someone stole 1,000 gallons of water from Daisy Valdivia's backyard. And they didn't spill a drop.
Valdivia woke Wednesday morning to find that her family's inflatable pool, hip high and 10 feet in diameter and filled with water, was stolen from her backyard in the middle of the night. There is no evidence that the water was poured out, pumped out, evaporated or drunk.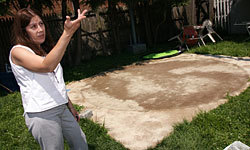 ©Leslie Barbaro / Herald News
Daisy Valdivia, of Paterson, is trying to figure out how thieves managed to steal the family's backyard inflatable pool and the 1,000 gallons of water in it during the night Wednesday.