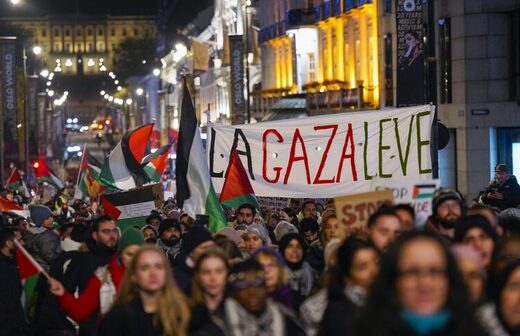 Norway's legislature adopted a resolution urging the government to be "ready to recognize" an independent Palestinian state, as Israel continues to carry out indiscriminate attacks in Gaza, which killed over 11,500 people, mostly women and children.
Norway's ruling coalition made the proposition to counter a resolution by smaller parties calling for immediate recognition of a Palestinian state.

Comment: So the ruling party only did it because their hand was forced? And this way the recognition is delayed?


Passed with an overwhelming majority in parliament
, it said the assembly "asks the government to be ready to recognize Palestine as an independent state when recognition could have a positive impact on the peace process,
without making a final peace accord a condition."
The wording means that no recognition is likely in the immediate future
but is a sign of the concern over the Gaza war in national assemblies across Europe.
Iceland, Sweden, Poland, the Czech Republic and Romania are among the countries to have already given legal recognition to a Palestinian state.
Spain's Prime Minister Pedro Sanchez voted back into power on Thursday, told parliament that he would "work" toward recognition
by his country and by Europe.
Since the Hamas' Oct. 7 attacks on Israel and Israel's relentless attacks on Gaza, there have been huge rallies in Britain and other countries in favor of the Palestinian cause, urging an immediate cease-fire to stop the ongoing humanitarian crisis.