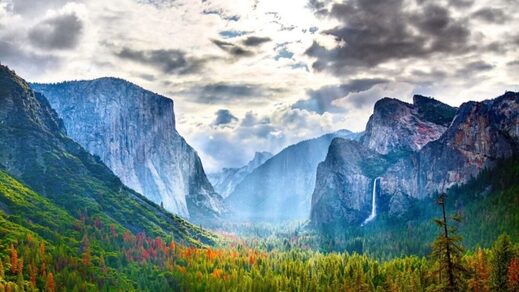 People are going missing in national parks and North American wilderness areas. A 2019 documentary,
Missing 411: The Hunted
, reports as many as 1,200 individuals have disappeared, but also admits that number may be under-reported.
David Paulides, a former police detective turned private investigator, is the author of the popular
Missing 411
series and documentaries of the same name, as well as the CanAm Missing Project. He said,
"We don't know how many people go missing from these locations because the USFS [United States Forest Service] and NPS [National Park Service] refuse to release a list of these missing people."
Several Hundred Cases a Year
Paulides is dedicated to investigating missing persons in national parks and forests. When asked how many cases he typically researches in a year, he responded,
"We probably research several hundred people per year."
One thing is certain: people who hike and camp in national parks or hunt in national forests and wilderness areas have vanished. These sobering stories are documented in Paulides' latest documentary,
Missing 411: The UFO Connection
(2022).
Chantile Ferriera, TCA Content Manager at Wealth of Geeks, is a fan of the
Missing 411
series. "I hold a healthy respect for the mountains and wilderness. I spent my childhood out with a telescope, watching the sky and looking for comets. Many times, as I tracked charts, I saw things that I couldn't explain.
"After moving to Utah, I had many events where I knew I wasn't alone in the woods. When you're in the forest and mountains enough, you can feel the wildlife around you and can notice a difference when something has entered the area that belongs and one that doesn't."
Mysterious Disappearances in National Parks
Exploring the great outdoors is a rewarding activity — especially when visiting America's prized national parks. But one thing that can derail plans while planning an outdoor adventure is safety.
Those visiting national parks and forests can get lost, and, according to Paulides, there are reports of some tourists vanishing without a trace.
Public data available from Statista indicates that hundreds of thousands of people go missing every year in the U.S., with over 500,000 in 2021. How many of these missing persons have disappeared from national parks, forests, and wilderness areas?
Paulides' books and documentaries assert a number of hikers and hunters have vanished from these areas, leaving nothing behind. His passion for the work was initially triggered by two park rangers who shared "strange circumstances" of hikers going missing, as discussed in
Missing 411: The Hunted.
When asked if she was a skeptic or not, Ferriera shares, "I've seen lights, UFOs, had items vanish in front of us, and had things show up on camera that weren't there when I was taking pictures. It's easy to dismiss something when you aren't there to experience it firsthand. In my opinion, nearly everyone has had an event or encounter, they are just too ashamed, scared, or skeptical to admit it."
Cluster Zones
Paulides'
Missing 411
series and CanAm Missing Project present facts and eerie similarities investigators have found across missing person cases of people who have disappeared from federal lands in "cluster zones" around North America. California's Yosemite National Park is high on the list, as is Oregon's Crater Lake.
Profile Points
What's unique about the cases Paulides takes on are the unusual, mysteriously similar details in each missing person's case that suggests something strange happened. Paulides calls these similarities "profile points."
Profile points include people getting separated from their party, inclement weather occurring right after someone goes missing, and Search and Rescue (SAR) canines being unable to pick up a scent. No tracks or belongings are left behind or found when these people go missing.
Record Visitation Continues
In 2022, the National Park Service reported an estimated 312 million recreational visits to the parks it manages, with over 13 million people staying overnight. Visitation increased by 5% more than in 2021, so the trend of outdoor enthusiasts visiting America's cherished and protected landscapes continues to rise.
Most Visited National Parks in The U.S.
According to public data from
nps.gov
, the top parks toured in 2022 included the Blue Ridge Parkway, the Golden Gate National Recreation Area, and the Great Smoky Mountains National Park. The Blue Ridge Parkway alone saw nearly 16 million visitors.
Popular national parks such as Zion, Yellowstone, Grand Canyon, and Rocky Mountain National Park welcomed upwards of 3 to 5 million people last year.
Staying Safe
If the information from the
Missing 411
series disturbs travelers, there are things travelers can do to stay safe while exploring the outdoors and planning that epic backcountry trip.
Be Prepared
Outdoor enthusiasts should always be mindful of the National Parks' 10 Essentials, which include wearing adequate clothing, bringing enough food to fuel energy levels, and water to stay hydrated. In addition, travelers should bring a map, flashlight, first aid kit, repair kit and tools, fire starter, emergency shelter, and sun protection.
Brian Smith, director of the Oklahoma SAR Council, says,
"Bring more than you think you will need. You don't know what's going to happen. Anyone can break an ankle and end up staying out longer than they anticipated." Smith adds, "It might not be a quick hike. People don't think it can happen to them, but things happen to people all the time."
Stay On Designated Trails
According to one online study, the number one reason people get lost is because they go off the trail.
Smith says, "Stay on the trail. If you are off the trail and are unprepared, dehydration and fatigue kick in. Then you run out of steam or trip and fall."
This article was produced by The Happiness Function and syndicated by Wealth of Geeks.