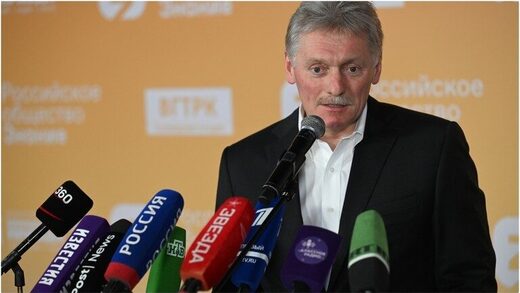 The Kremlin says Russia has halted its participation in a
deal
that
allowed war-torn Ukraine to ship grain through the Black Sea to parts of the world struggling with hunger, dealing a blow to
global food security
after Moscow's invasion last year sent prices soaring.
The United Nations and Turkey brokered the landmark accord with Ukraine and Russia in July last year, which came with a separate agreement to facilitate shipments of Russian food and fertiliser that Moscow insists has not been applied.
The Black Sea deal has been extended several times and was due to expire on Monday evening as Russia refused any further extension citing its reasons.
President Volodymyr Zelenskyy said his country is prepared to continue grain exports.
"Even without the Russian Federation, everything must be done so that we can use this Black Sea corridor. We are not afraid. We have been approached by companies that own ships. They said that they are ready" to continue shipments, Zelenskyy said in comments distributed on social media by his spokesman Sergiy Nykyforov.
Denys Marchuk, deputy head of the Ukrainian Agrarian Council - the main agribusiness organisation in Ukraine - said alternative routes such as river ports were more expensive to use in terms of transportation costs.
However, he expected a solution.
"As an option, why don't we assess the possibility of the continuation of the grain deal without Russia? We had experience of this already in November 2022," he added.
More than 32 million metric tonnes of corn, wheat and other grains have been exported by Ukraine under the arrangement, with the last ship leaving Ukraine on Sunday.
"The Black Sea agreements ceased to be valid today," Peskov told reporters on Monday afternoon.
"Unfortunately,
the part of these Black Sea agreements concerning Russia has not been implemented so far, so its effect is terminated," he said, adding that Moscow would "immediately" return to the deal "as soon as the Russian part of the agreements is fulfilled".
Russia has notified Turkey, Ukraine and the UN that Moscow is against extending the deal, said Maria Zakharova, a spokesperson for the Russian foreign ministry.
The halting of the grain deal
came just hours after Russia said Ukraine
had attacked
a bridge linking it to the annexed Crimean Peninsula
.
Peskov said the decision not to renew the deal was unrelated
to the overnight attack, which he called a "terrorist act" and blamed on Ukraine.
UN Secretary General Antonio Guterres said Russia's decision to exit the Ukraine grain deal will "strike a blow to people in need everywhere".
"Hundreds of millions of people face hunger and consumers are confronting a global cost-of-living crisis. They will pay the price," Guterres told reporters in New York.

Comment: If it concerns Guterres and his people so much then they need to work on fulfilling the agreements to Russia, which, in part, concern how the West is receiving grain intended for third world countries.


Echoing the secretary-general's words, the United States ambassador to the UN accused Moscow of holding "humanity hostage", and said Russia's exit from the Ukraine grain deal is an "act of cruelty".
"While Russia plays political games, real people will suffer," Linda Thomas-Greenfield told reporters at the UN headquarters in New York.
The United Kingdom has also denounced Russia's decision and called on Moscow to commit to the grain deal.
"By unilaterally forcing the collapse of the BSGI (Black Sea Grain Initiative), Russia has used food as a weapon and is preventing grain reaching those who need it most," a spokesperson for the British foreign ministry said in a statement.
"The UK condemns Russia's blatant attempt to harm the most vulnerable as part of its illegal war. Russia must renew the BSGI and commit to its full implementation."
European Union Commission President Ursula von der Leyen called Russia's decision to suspend a Black Sea grain export deal a "cynical move", adding that the EU would continue to work towards ensuring food security for poor countries.
Meanwhile China's UN ambassador, Zhang Jun, expressed hope that all parties involved could find a way forward, specifically mentioning that Russia had concerns.
"We still hope that, you know, by accommodating the concerns of all parties ... then we can find a package solution,"
Zhang told reporters.
Ukraine and Russia are two of the world's biggest agricultural producers, and major players in the wheat, barley, maize, rapeseed, rapeseed oil, sunflower seed and sunflower oil markets. Russia is also dominant in the fertiliser market.

Comment: The fertilizer shortages has already impacted farmers over one growing season, for them to have to suffer through another could be disastrous for the food supply.


Russia's invasion of Ukraine in February last year sent food commodity prices surging to record highs last year, contributing to a global food crisis also tied to other conflicts, the lingering effects of the COVID-19 pandemic, droughts and other climate factors.

Comment: It was largely the West's sanctions in response to Russia's SMO that impacted food prices; in addition to the West's sanctions on Russian energy products used to grow and transport food.


High costs for grain needed for food staples in countries in the Middle East and Africa exacerbated economic challenges and helped push millions more people into poverty or food shortage.
The Black Sea deal provided assurances that ships will not be attacked entering and leaving Ukrainian ports. A separate agreement facilitated the movement of Russian food and fertiliser - also critical to the global food chain.
While
such exports are not subject to Western sanctions
due to its invasion of Ukraine,
Russia says restrictions on payments, logistics and insurance have become a barrier to shipments
.
A key Russian demand has been for the Russian Agricultural Bank (Rosselkhozbank) to be reconnected to the SWIFT
international payments system. The bank was cut off from SWIFT by the European Union in June 2022 over the invasion of Ukraine.
Pavel Felgenhauer, a Moscow-based defence and military analyst, said many in Russia had been calling for months for the deal's cancellation.
"Russia was saying that it might terminate the grain deal for some time but each time, there were negotiations between President Vladimir Putin and Turkish President Recep Tayyip Erdogan and the deal was continued," he told Al Jazeera.
Felgenhauer said he expected Erdogan to put pressure on Putin, adding that the deal would be discussed at a summit between the two leaders that is likely to take place next month.
"It's been several times that Erdogan had managed to change Putin's position on serious matters," Felgenhauer said.
Last week, Putin said that the parts of the deal relating to Russia had not been implemented, so he was thinking of suspending
its participation and that Russia would return to the deal once its conditions were met.
Russia has agreed three times in the past year to extend the Black Sea deal, but also briefly suspended its participation at the end of October in response to a drone attack on its fleet in Crimea.
Russia has also complained that not enough grain has reached poor countries.
The UN has argued that the arrangement has benefitted those states by helping lower food prices by more than 20 percent globally.
Nana Ndeda, humanitarian policy and advocacy Lead at Save the Children, told Al Jazeera the deal had enabled the stabilisation of global markets and the lowering of food prices in many parts of the world.
"What is likely to happen now is that those
food prices will go up again,"
she told Al Jazeera from Kenya's capital, Nairobi.
"With that, countries will no longer be able to supply food to children and their families will no longer be able to access food and we'll see an increase in malnutrition and food insecurity."