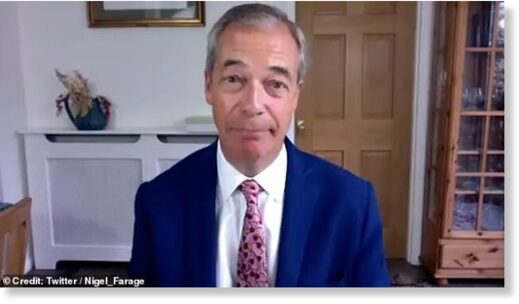 Nigel Farage sensationally claimed today that his bank accounts were shut down due to his position on Brexit and accusations that he has taken money from Vladimir Putin's regime in Russia.
In an extraordinary six-minute video published on
Twitter
, the former Brexit Party and Ukip leader, said he was a victim of 'political persecution' and suggested he was trying to be forced out of the UK.
Mr Farage claimed the banking group told him earlier this year his personal and business accounts would be closed over the summer. He did not name the group, but told his 1.7million followers this morning that he had been banking with them since 1980.
Painting himself as the victim of a 'serious political persecution', Mr Farage claimed that the extraordinary measure was effectively tantamount to making him a 'non-person', adding: 'I won't really be able to exist or function in a modern 21st century Britain.
'I'm beginning to think that perhaps life in the United Kingdom is now becoming completely unliveable because of the levels of prejudice against me.'
Mr Farage speculated that the 'establishment' was targeting him due to his role in campaigning for Brexit during the 2016 referendum on British membership of the EU. He also suggested that his reputation had been smeared by Labour MP Sir Chris Bryant, who last year used parliamentary privilege to claim that Mr Farage was paid more than £500,000 by the Russian state through his appearances Russia Today in 2018. He vehemently denied this, saying: 'I didn't receive a penny from any source with even any link to Russia.'
Sources close to the politician at the time claimed the £548,573 figure quotes in the House of Commons, using parliamentary privilege, was his firm's total income for the year, not an amount he received from Russia Today, on which he made a series of appearances that year.
Last year, British film-maker Graham Phillips was added to the UK Government's sanctions list, accused of being a conduit for pro-Russian propaganda.
The video blogger was filming pro-Kremlin material from Russian-occupied areas of Ukraine shortly after the conflict first broke out.

Comment: God forbid the public gets to hear Russia's side of the story.


As a result of being on the sanctions list, his assets were frozen.
In his bombshell video, Farage speculated a range of possible reasons for the alleged closure, including suggesting that he had been deemed a politically exposed person (PEP).
A PEP is an individual that holds a prominent public position or function, and may be deemed more susceptible to bribery, corruption or other money laundering offences due to their role.
In his post on social media this morning, the GB News host wrote: 'I have been given no explanation or recourse as to why this is happening to me.
'This is serious political persecution at the very highest level of our system. If they can do it to me, they can do it to you too.'
Speaking of the importance of having a bank account, he added: 'You effectively become a non-person, you don't actually exist.
'It's like the worse regimes of the mid-20th century, be they in Russia or Germany, you literally become a non-person.
'I won't really be able to exist or function in a modern 21st century Britain.'
It comes after Mr Farage yesterday blasted the Television and Radio Industries Club Awards for
'deleting' a tweet
that announced him as winner of News Presenter of the Year.
He accused the organisation of taking down the congratulatory message because he 'committed the cardinal sin of questioning the Barb figures.'
The 'Barb' figures show the TV ratings of programmes and are compiled daily by the Broadcasters' Audience Research Board.
Mr Farage criticised the way viewing numbers are collated during his acceptance speech and on his show last night, accusing the industry of 'marking their own homework' and being 'out of touch.'
At this week's ceremony, the presenter called on
hecklers to 'keep the abuse coming' as he was booed
after beating established veteran journalists Eamonn Holmes and Susanna Reid to the gong.
Sir Chris declined to comment when approached by MailOnline.