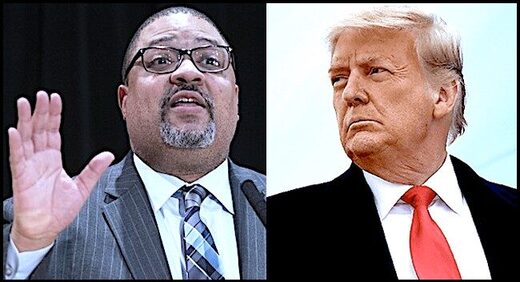 A New York grand jury voted to indict former President Donald Trump on Thursday, launching the start of criminal proceedings against the former president.
Less than two weeks ago, Trump warned of his imminent arrest based on "illegal leaks" from the Manhattan district attorney's office, which the
George Soros-funded Democrat Alvin Bragg
leads.
The
New York Times
first reported Trump's indictment on Thursday, citing "five people with knowledge of the matter." Shortly after the
Times'
report, Trump's legal team confirmed the indictment. Trump's attorneys Susan Necheles and Joe Tacopina
said
"President Trump has been indicted. He did not commit any crime. We will vigorously fight this political prosecution in Court."
In criminal proceedings, an indictment is a formal accusation that a person has committed a crime. In New York,
a grand jury of 23 individuals
determined
there was enough evidence to issue an indictment against Trump.
The grand jury process is kept secret, but jurors typically hear evidence from the prosecutor's witnesses before deciding to issue an indictment. It is unknown what exact charges the grand jury's indictment of Trump includes.
Next, local law enforcement must process Trump, whether he voluntarily surrenders himself to authorities or will be publicly arrested in a "perp walk."
However, a perp walk is unlikely as defendants accused of white-collar crimes typically coordinate a surrender date through their attorneys.
A spokesperson from Bragg's office
confirmed
they are coordinating with Trump's attorneys to "coordinate his surrender to the Manhattan D.A.'s Office for arraignment on a Supreme Court indictment, which remains under seal."
"Guidance will be provided when the arraignment date is selected," Bragg's office
added
.
Tacopina previously
said
Trump and his team would "follow the normal procedures" if the indictment happened
"there won't be a standoff at Mar-a-Lago with Secret Service and the Manhattan DA's office."
After Trump's surrender is negotiated,
the former president will be booked by law enforcement where he will follow routine steps for felony arrests in New York that include taking his fingerprints and a mug shot.
The first court date after Trump's surrender will be
an arraignment hearing
in a Manhattan courtroom, which is when the exact charges against Trump will be revealed. Trump will also enter a plea of guilty or not guilty and then the judge will determine what amount, if any, Trump must pay for bail.
It appears unlikely that the indictment will have any consequences for Trump's presidential campaign.
Trump said earlier in the month that he would "absolutely not" drop out of the 2024 presidential election if the Manhattan District Attorney's Office indicted him.
VID this or one from Fox other article
Bragg's investigation into Trump stems from his alleged role in paying Storm Daniels $130,000 in hush money. Trump's former lawyer, Michael Cohen, claimed Trump pressured him to make the six-figure payment to Daniels on Trump's behalf.
In 2018, Cohen was
sentenced
to three years in prison after pleading guilty to charges of tax evasion, misleading Congress about his past business dealings in Russia, and arranging payments to silence women.