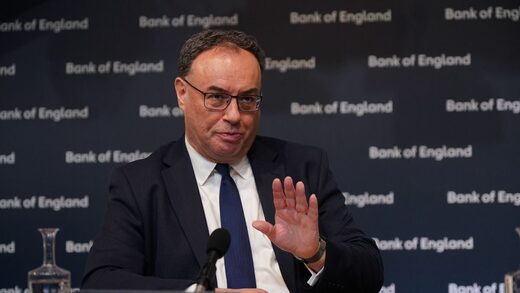 Bank of England Governor Andrew Bailey has warned firms hiking prices risk driving up the cost-of-living and hurting the "least well off".
Mr Bailey also suggested that increasing prices may have a knock-on impact on interest rates.
His comments
follow a surprise increase in inflation on Wednesday
and the central bank's decision to raise interest rates - the 11th rise in a row - from 4% to 4.25%.

Comment: It's only a surprise to anyone who believes, against all evidence, that the economic situation is going to improve.


Figures the same day showed
food and soft drink prices rose by
18% year-on-year last month
- the highest rate since August 1977
.
"If all prices try to beat inflation we will get domestic inflation - it will start repeating itself,"
Mr Bailey told
BBC
Radio 4's Today programme.
"I would say to people who are setting prices - please understand if we get inflation embedded, interest rates will have to go up further and higher inflation really benefits nobody.
"It hurts people and it particularly hurts the least well off in society".
He insisted he was not saying companies should take hits to their profits
or that some firms are putting up prices more than is necessary.

Comment: Perhaps he should specify exactly what he means then.


But the Governor said when looking to set future prices, companies should "please bear in mind" that inflation is forecast to plunge by the end of the year.
He added: "We think it will fall sharply - really from the early summer throughout the rest of the year. We're pretty confident about that."

Comment: They were confident it would be falling by now, but then they were 'surprised'.


The Unite union welcomed Mr Bailey's "lacklustre acknowledgement" of the role of price rises on inflation, saying it "is a step forward after years of targeting workers".
Last year the Bank of England chief,
who has an annual pay package of over £500,000, faced intense criticism after suggesting workers should not ask for big pay increases
to help control inflation levels.

Comment: Over the last decade MPs have voted to raise their own salaries multiple times whilst the rest of the country were advised to suffer their austerity measures.


But Unite general secretary Sharon Graham added: "The Governor of the Bank of England is still refusing to acknowledge the depth of the crisis.
The UK is in the grip of a profiteering epidemic - it is greedflation, not workers' wages, that is fuelling the cost of living crisis.
"Policy makers seem determined to remain prisoners of a broken economy. They need to wake up."
Responding to Mr Bailey's comments, the Prime Minister's deputy spokesman said: "It is obviously for individual companies to make their own commercial decisions.
"Our focus and what we think the best thing to do is ease pressures on businesses and households alike, to get inflation down, which is why we have promised to halve inflation this year, and both the OBR and the Bank of England predict we will do that.
"Our focus is very much on supporting businesses."