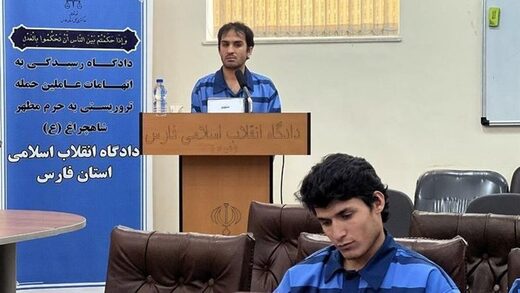 A court in Iran sentenced two of the alleged main perpetrators of the Shiraz attack in October 2022 to death, according to a report published by
Tasnim News Agency
on 19 March.
The report details that the Judiciary Chief of Fars Province, Kazem Moussavi,
found the two main suspects guilty of corruption, armed rebellion and acting against national security
.
Moussavi also stated that
the men were directly involved in the planning of the terror attack and the arming of the ISIS militants who carried it out
, according to Press TV.
On 7 November, Iranian security and intelligence forces arrested
26 ISIS members
involved in the
shooting attack
on the Shah Cheragh shrine in the southern province of Shiraz.
The ministry also revealed that the
detainees are from Azerbaijan, Tajikistan, and Afghanistan
, with the head coordinator being Azeri.
The perpetrators behind the attack
took advantage of the unstable security situation in the country during months-long protests
following the death of
Mahsa Amini
in September 2022.
Witnesses of the attack reported that
the gunmen killed
15 people
and injured dozens more after opening fire on worshipers at the Shah Cheragh shrine
in Iran's city of
Shiraz
on 26 October.
The ministry also disclosed that the armed group
had already begun coordinating attacks in other Iranian cities
, including
Zahedan
in the province of Sistan and Baluchestan.
On 27 October, Iranian President Ebrahim Raisi pledged "a crushing response" to those responsible for the terror attack. He said: "This vicious act will definitely not go unanswered. The country's security and law enforcement forces ... will deliver a decisive response to its architects and operatives."
The US-state-funded media outlet
Voice of America
cited several tweets in which users claimed that the government was behind the attack. However,
ISIS took responsibility via
Amaq
, the group's media outlet
.
Meanwhile, Tehran has maintained that
foreign players
funded and
fueled
violent riots in a bid to destabilize the nation.