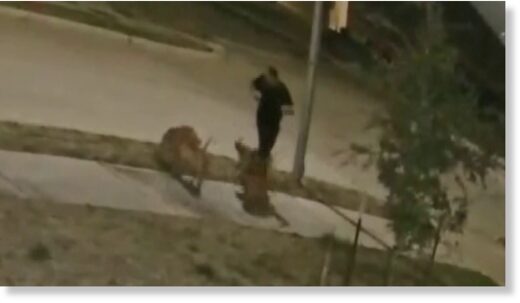 A Baytown man is recovering from a vicious dog attack Thursday night that sent him to the hospital and left him on crutches.
During his routine evening walk, four pit bulls that got loose from their yard started following him before he could be heard screaming throughout the neighborhood as they attacked him.
"I've never heard anything like that, like in my entire life," neighbor Jordyn Burks said.
She and her mother heard the hollering and called 911 while the mauling unfolded in Marisol Arredondo's front yard.
"Scary because it could have happened to us," she said. "That guy could have died right there."
Baytown medics rushed the man to HCA Clear Lake Hospital in serious condition. He is now on crutches with injuries to both feet and both arms after getting 19 stitches and three staples, his roommate told KPRC 2.
The City of Baytown's Animal Services Department responded to the attack, seizing the four pit bulls as well as four young puppies.
Three of the pit bulls have been euthanized and the fourth will be, a spokesperson said. The young puppies will be sent to a rescue organization.
"City of Baytown leaders were disgusted after hearing about Thursday night's dog attack against a member of our community, and we're hoping for a quick recovery. The City has ordinances in place to protect both the public and animal owners. However, we fully acknowledge that we have seen an increase in cases of irresponsible pet ownership. In cases like this in the past, owners have been held responsible in many ways and this one is no different," a spokesperson wrote in a statement to KPRC 2.
Several neighbors pointed out a busted fence where they believe the dogs got out of the yard.
"You never know who's taking care of their dogs, how they're going to take care of them," Burks said. "If you don't treat your dogs well, they're not going to get a good relationship with humans and want to attack."