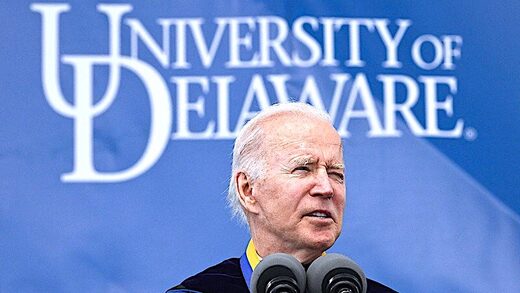 A new set of classified documents
from Vice President Biden's and Senator Biden's time at the University of Delaware have surfaced amid the revelations of the boxes of documents found in President Biden's possession. Furthermore,
the transfer of the questionable document boxes did not occur until 2012
, though it had begun in 2010. As the strange details emerge, there have been calls for more information about the documents, their contents, and the timeline of the boxes' transfer.
Specifically, Biz Pac Review states:
The story begins in 2010, when a business associate of Biden's crack-smoking son, Hunter, was inexplicably assigned the task of transferring the documents from Biden's VP office to the University of Delaware. The moving of the documents was reportedly performed by Eric Schwerin, who was Hunter's Rosemont Seneca business partner. The 1,850 boxes of documents were moved to the University of Delaware after Biden decided to donate them. While most of the documents were reportedly from his tenure as a Delaware senator, some of the documents were also from the 2009 Obama-Biden presidential transition, as exclusively reported on Thursday by the Daily Mail.

Prior to the documents being moved, the then-VP's deputy counsel, Katherine Oyama, reportedly wrote an email to Schwerin warning him that the documents contained 2009 Obama-Biden presidential transition papers that "the vice president likely does not own." "She recommended the inclusion of language about 'the University's duty to comply with ... classified information procedures,'" according to the Daily Mail. Schwerin subsequently forwarded Oyama's email to Hunter and wrote:

"FYI - if you want to be in the loop. I sent to Mel who is going to talk to your Dad about this and decide who should work on it between him and Jamie."

Mel was reportedly a reference to attorney Melvyn Monzack, who "handled Hunter and Joe's brother Jim's taxes and other Biden family affairs," according to the Daily Mail.

However, the paperwork didn't get to the University of Delaware until June 6th, 2012.

The Newark Post reported at the time:

"The University of Delaware's Morris Library last week welcomed a delivery of 1,875 boxes full of Vice President Joe Biden's senatorial papers, the largest collection that the library's special collections department has ever received. Crews moved the 33 pallets of boxes from two trucks into the library's basement, where the papers were secured on mechanical compact shelving, built especially to accommodate the large collection."
After the library had received the materials, they announced it on Twitter: