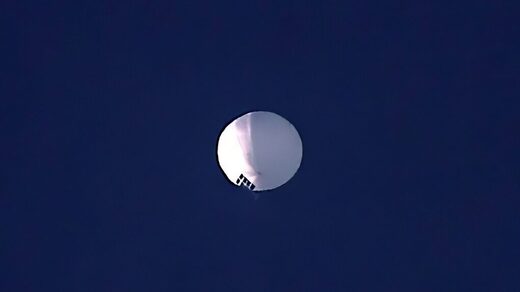 Several former Trump national security officials say they were never briefed on Chinese balloons in US airspace.
In the wake of a
Chinese spy balloon entering US airspace
this week, a senior defence official is now saying
Chinese
spy balloons previously entered
US
airspace
three times
during
Donald Trump's
presidency,
This comes as Mr Trump and other Republicans have rejected such assertions,
attempting to blame
the incursions on Presidents
Joe Biden
and
Barack Obama
.
The
Defence Department
said in a statement on Saturday that "Chinese balloons briefly transited the continental United States at least three times during the prior administration".
Yet another balloon entered US airspace previously during Mr Biden's time as president, the Associated Press reported.
Mr Trump appeared to be outraged at the statement from the Defence Department and the reporting of it, writing on
Truth Social on Sunday morning
that "the Chinese Balloon situation is a disgrace, just like the Afghanistan horror show, and everything else surrounding the grossly incompetent Biden Administration".
"They are only good at cheating in elections, and disinformation — and now they are putting out that a Balloon was put up by China during the Trump Administration, in order to take the 'heat' off the slow moving Biden fools. China had too much respect for 'TRUMP' for this to have happened, and it NEVER did. JUST FAKE DISINFORMATION!" he added, without providing any evidence for his claims.
The previous four violations of US sovereignty didn't go on for as long as the most recent incursion, which ended Saturday when
the balloon was shot down by the US military
off the coast of South Carolina. None of the earlier balloons has been reported to have been shot down.
Despite the takedown of the balloon and the statement from the Defence Department that this had happened previously under Mr Trump's watch, Republicans blasted Mr Biden for not acting quickly enough and claimed it wouldn't have happened if Mr Trump had been in charge.
Some argued that Mr Biden shouldn't have allowed the balloon to enter US airspace.
Georgia Republican Representative Marjorie Taylor Greene claimed that Mr Trump wouldn't have allowed the balloons to reach the US.
"Would Trump have let China fly a spy balloon over our country?" Ohio Republican Representative Jim Jordan
tweeted
.
A Chinese spy balloon crashed into the Pacific Ocean near Hawaii four months ago, US officials have said, according to
Fox News.
At least one balloon flew over parts of Texas and Florida while Donald Trump was president, the outlet reported.
This comes as Mr Trump told
Fox News Digital
on Sunday morning that such reports are "disinformation".
"This never happened. It would have never happened," the former president said, claiming that China "respected us greatly" when he was in the White House.
"It never happened with us under the Trump administration and if it did, we would have shot it down immediately," he added. "It's disinformation."
John Bolton, the former Trump White House national security adviser, told Fox that he was unaware of any balloons when he was in the administration.
"I don't know of any balloon flights by any power over the United States during my tenure, and I'd never heard of any of that occurring before I joined in 2018," he said. "I haven't heard of anything that occurred after I left either."
Mr Bolton said that if the Biden White House has "specific examples, they need to tell Congress".
"I can say with 100 per cent certainty - not during my tenure," he claimed.
Mr Bolton's successor and national security adviser, Robert O'Brien told Fox that "unequivocally, I have never been briefed on the issue".
Ric Grenell, the former acting Director of National Intelligence, told Fox that he conducted "one of the biggest intelligence deep dives on China, their spying and the origins of COVID" and that "it never came up".
"If a balloon had come up, we would have known. Someone in the intelligence community would have known, and it would have bubbled up to me to brief the president," he added.
The former Director of National Intelligence, John Ratcliffe, who had the job after Mr Grenell, concurred.
"It's not true. I can refute it," he said during an appearance on
Sunday Morning Futures
.
"The American people can refute it for themselves. Do you remember during the Trump administration, when photographers on the ground and commercial airline pilots were talking about a spy balloon over the United States that people could look up and see, even with the naked eye, and that a media that hated Donald Trump wasn't reporting? I don't remember that either because it didn't happen."
Mark Esper, who served as defence secretary under Mr Trump, told
CNN
that "I don't ever recall somebody coming into my office or reading anything that the Chinese had a surveillance balloon above the United States".
"I would remember that for sure," he added.
Chris Miller, the former acting Defense Secretary, told Fox that he "never heard a whisper and I have to think if anything like that happened that would have been a huge issue".
"No. Absolutely never heard of anything like that while I was in government or at the Pentagon," he added.
But Craig Singleton, a Foundation for Defense of Democracies senior China fellow, told the
Associated Press
that several Chinese spy balloons have been spotted several times over the course of the last half-decade.
"This incident is incredibly embarrassing for Beijing. It reinforces concerns that most Western nations justifiably harbour about China's great power ambitions," he
told NBC News on Saturday.
"Chinese officials are finding themselves in damage control mode."