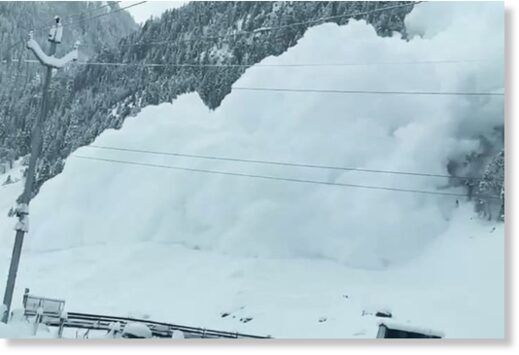 Two girls were buried alive under an avalanche in Kargil, while air and road connectivity with the Kashmir Valley was cut off on Monday due to snowfall and landslides on the Jammu-Srinagar highway.
The Kashmir Valley and higher reaches of Jammu were witnessing heavy snowfall, while the plains were having rain since last night. Train services in the valley have also been suspended.
Electricity supply in several areas was snapped due to snow and rain.
Bodies of the two girls buried under the avalanche on Sunday were recovered on Monday. The police said the bodies were recovered with the help of locals. The deceased girls have been identified as 11-year-old Kulsum and 23-year-old Bilques. They were buried under the avalanche in Tangole hamlet in Panikhar area of Kargil district of Ladakh.
Lt. Governor of Ladakh, RK Mathur, while extending condolences to the bereaved families, announced an ex gratia of Rs 5 lakh to families of each deceased.
Rescue operations were launched by the civil administration with the help of police, locals and volunteers of Baseej-e-Baqiyatullah. After strenuous efforts, the bodies of both the girls were recovered.
Deputy Commissioner Kargil, Santosh Sukhdev said people have been advised to take precautions and restrict their movement in such avalanche prone areas.
Air connectivity with Srinagar remained suspended due to poor visibility and continuous snowfall. An airport spokesman said that the visibility was only 200 metres. Snow clearing operations were being undertaken simultaneously.
Amid snowfall, shooting stones and landslides at several stretches, the Jammu-Srinagar highway has been shut for vehicular traffic. Mudslides and shooting stones were reported at many places between Chanderkot and Banihal.
Deputy Commissioner, Ramban, said that shooting stones from hill tops were reported at several locations in the Ramban-Banihal section of the highway. Shooting stones have become active also at Mehar.