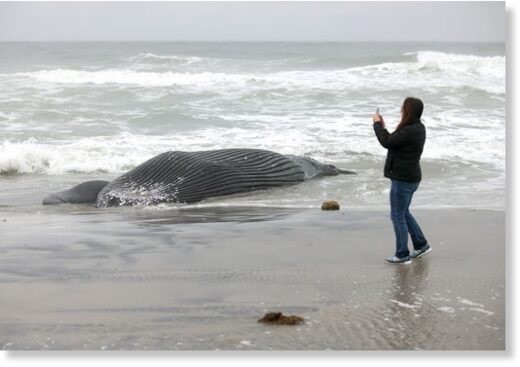 T
he seventh dead whale in just over a month has washed up on the New York-New Jersey coastline,
a local photographer and a climate group told NJ Advance Media on Friday.
The humpback whale, the resident said, washed up at a beach in
Brigantine
.
"This was at the far north end of Brigantine," said Connie Pyatt, who noted that the whale was dead.
The dead whale washed up just miles from where another whale was found in
Atlantic City on Saturday
— which itself washed up blocks away from where
another humpback whale was found in December.
The Marine Mammal Stranding Center, a non-profit organization which is
authorized by the state
to rescue marine mammals and respond to whale strandings, did not immediately provide comment Friday.
In a
summary of the incident
, the center said Friday the whale was first reported Jan. 12 at 4:50 p.m.
"When staff arrived, they found the 20-25 foot long carcass upside down in the surf. Due to the incoming tide and low light last night, staff returned at daybreak this morning to take photos," the center said. "After a conference call with NOAA Fisheries and Greater Atlantic Region Stranding Network members to work out logistics, plans are underway for a necropsy to be performed on the animal."
The Marine Mammal Stranding Center, which indicated it will post updates on the latest stranding, said it will revisit the area to take samples and measurements at the next low tide but asked for patience due to a small staff.
"These results can take several months to come back before a cause of death can be determined, if at all," the center said, noting that residents should not approach the area for their own safety.