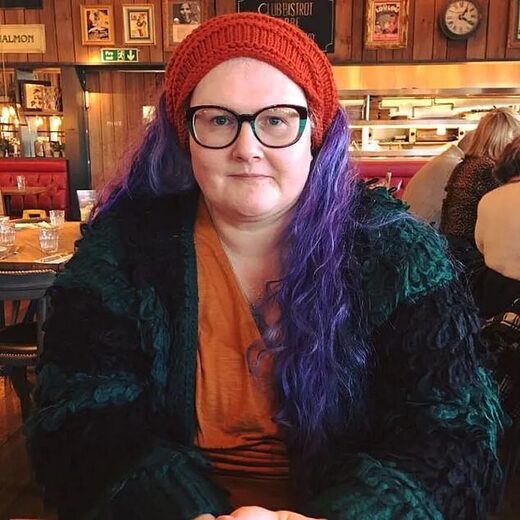 A
women's rights
campaigner who put up stickers and posters in Newport, Wales, has been arrested by police for 'criminal damage' and 'abusive writing' after people allegedly complained that her posters carried an 'anti-transgender message'.
Jennifer Swayne, 53, was arrested on Sunday afternoon and detained until the early hours of the morning, while police officers executed a search warrant on her property and confiscated women's rights stickers and a book containing a collection of critical essays about the theory and practice of transgendering children.
Some of the stickers and posters put up by Swayne carried feminist messages decrying violence against women,
but others which bore phrases such as 'no men in women's prisons' and 'humans never change sex' were reported as being offensive.
Gwent police released a statement earlier this week alleging they had received complaints about the 'offensive messages' over a period of several months and that the posters contained 'abusive writing likely to cause harassment, alarm or distress'.
Swayne meanwhile took to social media
to argue that her messages were not anti-trans but pro-women and alleged that her 'thinking was being investigated' rather than her actions.
Some of the stickers and posters made by Swayne were emblazoned with phrases such as 'no child is born in the wrong body, humans never change sex', 'Woman = Adult Human Female' and 'Are you happy for your 13-year-old daughter to shower next to an adult man, yes or no?'.
Gwent police on Tuesday released a statement explaining the circumstances surrounding the arrest.
Superintendent Vicki Townsend said: 'We've received several reports in relation to posters containing offensive material appearing in Newport between October and January.
'Officers on patrol in Newport saw a woman spraying stickers to two lampposts.
'A 53-year-old woman from Newport was arrested on suspicion of criminal damage and displaying threatening or abusive writing likely to cause harassment, alarm or distress.
Police said they received six complaints of 'offensive messages'
posted by Swayne on Sunday and were therefore compelled to investigate.
Swayne meanwhile took to Twitter to rail against the police for the arrest and to refute claims that she had published 'transphobic' messages.
'Yesterday Sunday 23rd/01/22 I was arrested for hate crime. Gwent police saw me as an exceptional threat to the T community by posting stickers and posters that did not mention T once. They were feminist in content and, I felt, pleasingly informative to women and concerned.'
Swayne, who suffers from bipolar disorder, went on to argue that the police's decision to confiscate a book concerning transgendering children amounted to policing thoughts over actions.
'When my house was raided, it has come to my attention that a BOOK was taken by the police. A book edited by Heather Brunskell-Evans on GC children. It was crammed with my notes. MY THINKING IS BEING INVESTIGATED- not things, not materials, not actions my actual thinking.'
The book,
'Transgender Children and Young People: Born in Your Own Body'
, is a collection of essays critiquing the theory and practice of transgendering children, edited by Dr Heather Brunskell-Evans.
A social theorist and long-time women's rights advocate, Brunskell-Evans has been critical of the rise of gender identity politics, particularly as it pertains to young adults and children.
Some social media users accused Swayne for being disingenuous about her social activism and said she was rightly arrested for her actions.
One user wrote: 'I feel you're being dishonest about the content and the implications you were making and policies you are doing activism around,' while another simply commented: 'So, you were arrested for vandalism.'
But many users leapt to Swayne's defence and said the police had overstepped the mark.
'Is there no real crime going on in Gwent?,' one user wrote. 'How did they get a warrant to search your home? What on earth did they tell the magistrate you'd done? I'm absolutely gobsmacked by this, and raging on your behalf.'
Meanwhile, free speech organisation Fair Cop accused Gwent police of 'unlawful interference', and declared it would provide Swayne with legal aid in the case.
Fair Cop's Harry Miller told
The Times
that
the posters that Swayne put up around the Welsh town were a 'political statement' that did not come near the criminal threshold.
The organisation's Twitter account addressed a message to Gwent police yesterday, declaring 'we have our legal team in place. We will be setting up a donation platform in the next few days. In the meantime, we have paid costs and will be bringing our A Team. You picked on the wrong people.'
Swayne was released on conditional bail at 3:30am on Monday morning as investigations continue.
She is the latest in a series of women, men and campaigners who have been labelled as 'anti-trans' after expressing their views or publishing works which challenge the status quo.
A criminologist became the latest target last week after anonymous complaints to his university bosses accusing him of 'transphobia' - following posts he made about keeping prisons single sex.
Criminologist Professor James Treadwell was informed by his employer Staffordshire University that official complaints were made about comments he made on
Twitter
.
Professor Treadwell had recently posted tweets insisting that transgender women should not be allowed in female prisons.
On January 9, he was branded a 'TERF' - which stands for Trans Exclusionary Radical Feminist - after he referenced research which found that more than half of women in prison have experienced sexual violence and abuse.
He appeared to be referencing research by the Prison Reform Trust charity which found that more than half of women in prison reported having suffered domestic violence, with 53 per cent claiming to have experienced emotional, physical or sexual abuse as a child.
He then added: 'Many [women] have been damaged by men time and again. I cannot see any case for now why we should do anything but #KeepPrisonsSingleSex.'
On January 11, referenced a Twitter thread which highlighted alleged bad treatment of women and girls and said it 'puts the drive for men being able to use women's spaces into some perspective'.
And earlier this month, Professor Treadwell was accused of 'trying to link' reform to the Gender Recognition Act - which allows people with gender dysphoria to change their legal gender - with 'sex criminals' after he penned a lengthy Twitter thread about sex offenders. However, the thread made no reference to transgender people.
In 2018, the criminologist said he did not believe transgender women should be housed in female prisons after inmate Karen White, who was born a man, was charged with sexually assaulting two women.
However, when the 'angry and upset' lecturer spoke out on Twitter on Wednesday evening, he said he had been given 'no details of what is alleged' and so has no idea if the tweets from this month and 2018 are the ones which have been complained about.
He jokingly added that it was a 'good job cancel culture is just a myth'.
The academic stressed he believes that transgender people 'like all people deserve dignity and respect', but added that 'academics giving their personal views do too'.
Professor Treadwell, who has worked at the university since 2017, said he had also been complained about for 'denying the reality of Satanic ritual abuse' - a reference to tweets of his last summer in which he disputed the unsubstantiated phenomenon.
Speaking exclusively to MailOnline, Professor Treadwell repeated that he does not know why he is being investigated, but believes his university are obligated to launch a probe after receiving a complaint.
He added: 'In the world today it would be nice if people could walk a mile in other people's shoes a little bit more.
'The last couple of years have been hard on everybody.
You can cause offence when none is intended.
I haven't really got more any more to say.'
A university spokesman confirmed to MailOnline that an investigation is underway and said they are committed to 'equality, diversity and inclusion'. They added they are 'equally' committed to academic freedom.
The investigation comes after other academics have been targeted in recent months for alleged transphobia linked to 'gender critical' views.
Gender-critical refers to the view that a person's sex - whether male or female - is a biological fact and not the same as the gender they feel, or how they present themselves in public.
In October, Sussex University feminist philosopher Professor Kathleen Stock quit her job following a 'bullying and harassment' campaign carried out by students accusing her of transphobia.
Just days later, Open University academic Professor Jo Phoenix, who is also a criminologist, described how she was compared to a 'racist uncle at a Christmas dinner table' after she aired views about the silencing of academic debate on transgender issues.
Harry Potter
author JK Rowling has been slammed by trans activists for writing a blog and tweeting about the subject, including one in which she took aim at the use of the term 'people who menstruate' in place of the word 'women'.