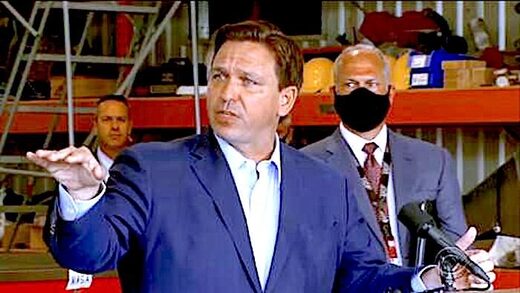 Tireless in their efforts to tarnish Republican Ron DeSantis,
CBS ran a malicious and deceptive hit piece against the Florida governor on Sunday night's
60 Minutes
.
DeSantis has been the
unfair target
of many journalists in the media, who were nearly a year late to New York Governor Andrew Cuomo's deadly nursing home scandal.
Correspondent Sharyn Alfonsi's whole report proposed DeSantis led a "pay for play" rollout of the COVID vaccine in his state.
She spent the majority of the time speaking to his critics, including West Palm Beach Mayor Keith James who alleged wealthy communities were "jumping the line" to procure the vaccine. "It sounds like the
Hunger Games!"
an alarmed Alfonsi, seriously said.
She touted other critics like Democrat State Rep. Omari Hardy blasting DeSantis for not prioritizing minorities for getting the vaccine before seniors.
At a press conference recently, the CBS correspondent confronted DeSantis,
accusing him of a "pay for play" scheme
with the vaccine rollout,
because he gave the most prominent grocery chain in the state, Publix, the rights to distribute the vaccine in certain counties,
weeks after receiving donations to his campaign from the store (which also donated to Democrats.)
Publix a whopping 831 stores in the state and 78 in Palm Beach County alone.
However,
CBS completely cut out DeSantis's thorough takedown of Alfonsi's claim.
In the original press conference,
you can watch on YouTube below, he explains for nearly two minutes how wrong the media's assessment of this has been.
"You don't care about the facts," he blasted Alfonsi.
Instead, CBS cut the majority of his answer out and played this instead: