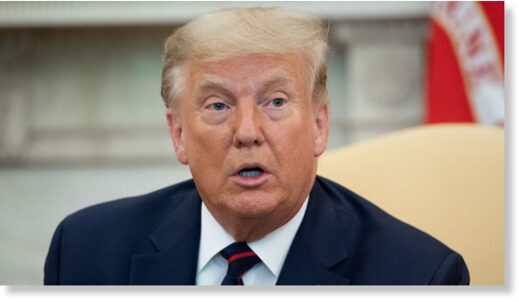 President Trump
defended his assertion that the novel coronavirus would "disappear" with
or without a vaccine
on Tuesday, saying the United States would develop what he called "herd mentality."
"With time it goes away,"
Trump said during an ABC News town hall in Pennsylvania when pressed by host
George Stephanopoulos
on his public comments about the virus. "You'll develop, you'll develop herd — like a herd mentality. It's going to be, it's going to be herd-developed, and that's going to happen. That will all happen. But with a vaccine, I think it will go away very quickly."
Trump appeared to mistake "herd mentality" for "herd immunity," which occurs when enough individuals develop immunity to prevent the spread of a disease
.

Comment: Now there's an interesting slip - considering the "herd mentality" he's trying to correct!


Trump went on to insist that the United States is "rounding the corner" with respect to the coronavirus, which has killed nearly 200,000 people in the U.S. Top health officials, meanwhile, have warned of the possibility of a dangerous public health situation in the fall if a second wave of COVID-19 coincides with flu season.
Last week,
Anthony Fauci
, a key member of the White House coronavirus task force, said he disagreed with Trump's claim that the U.S. was rounding the "final turn" on the virus.
"A lot of people do agree with me," Trump told Stephanopoulos when pressed on Fauci's disagreement. "You look at Scott Atlas. You look at some of the other doctors that are highly — from Stanford. Look at some of the other doctors. They think maybe we could have done that from the beginning."
Atlas, a senior fellow at Stanford University's Hoover Institution, was added as one of Trump's coronavirus advisers in August.
The Washington Post
reported last month that Atlas was pushing the White House to adopt a "herd immunity" strategy, though the White House
has denied
that the administration has ever considered such a policy to address the coronavirus pandemic.
The president offered a consistent defense of his response to the coronavirus on Tuesday, despite criticism of his rhetoric on the virus and his administration's handling of the pandemic. Polls show a majority of Americans disapprove of Trump's handling of the virus.
Trump denied downplaying the virus publicly, despite a recording of March interview with journalist Bob Woodward during which he acknowledged "playing it down" in order to avoid "panic." Trump said he was not looking to be dishonest with the public and said he regretted nothing about his response, saying his administration had done a "great job."
The president also repeatedly touted his administration's work toward securing a vaccine, saying at one point a vaccine could be ready within "three weeks, four weeks" — a statement that is sure to encounter skepticism within the health community. Fauci has said a vaccine could be available by the end of the year.