Comment:
Update 30 March 2020
Twitter, like the good hive mind app that it is, has begun
deleting Bolsonaro's efforts to break the Corony spell
his country has been put under.
In an unprecedented move, Twitter has yanked two posts by Brazilian President Jair Bolsonaro, in which he took aim at coronavirus lockdowns as part of his controversial campaign to avoid a shutdown of the economy.

Bolsonaro has become the first ever head of state to have his tweets censored by the platform under recently-updated guidelines, requiring users to remove content that defies "global or local health authorities recommendations" aimed at halting the spread of the deadly disease that has already taken hold in the Latin American country.

The Brazilian leader, who has been adamant that economic damage from lockdowns is a price too high to pay for lowering health risks, made a trip to a street market on Sunday, mingling with crowds and chatting with street vendors.

The videos, posted by Bolsonaro in the wake of the visit, apparently ran afoul of the Twitter guidelines. In one of them, Bolsonaro assures a street seller that he was "not going to die" due to the measures to combat the pandemic.

"What I have been hearing from people is that they want to work," the president, dubbed the "Trump of the Tropics," reportedly said.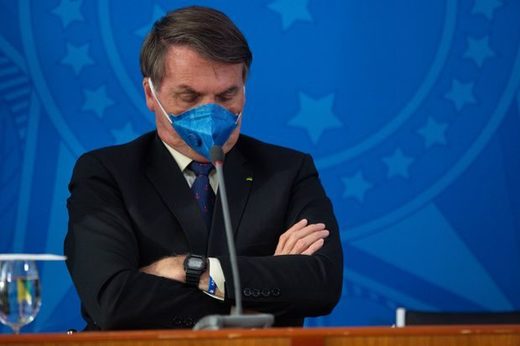 Brazilian President Jair Bolsonaro has waved off the ongoing coronavirus pandemic, insisting that life goes on.
He suggested the death toll in his own country has been
overstated for political purposes
.
The Brazilian leader has been locking horns with many of the country's governors, who have imposed bans on non-essential commerce and continue to accuse Bolsonaro of prioritizing the economy over the lives of his citizens.
"I'm sorry, some people will die, they will die, that's life,"
Bolsonaro said in an televised interview on Friday.
"You can't stop a car factory because of traffic deaths."
He remarked that in the state of Sao Paulo the reported fallout from Covid-19 - 1,223 cases and 68 deaths - seemed
"too large."
"We need to look at what is happening there, this cannot be a numbers game to favor political interests,"
Bolsonaro said.
Earlier on Friday, Sao Paulo Governor Joao Doria accused the Brazilian president of spreading
"disinformation"
by
running television ads critical of lockdown restrictions
. The campaign, which uses the slogan #BrazilCannotStop, is similar to those which were adopted in Milan before northern Italy suffered a soaring death toll from the virus.

Comment: Northern Italy routinely 'suffers' worse 'soaring death tolls' from seasonal flu and other outbreaks.


According to a tally kept by Johns Hopkins University, Brazil currently has nearly 3,500 confirmed cases of Covid-19, resulting in 92 deaths.

Comment: The same university that ran an exercise in October last year about 'a global Coronavirus pandemic bringing the world to a halt' is NOT a reliable source for any of this.


Worldwide infections are nearing 600,000, with more than 27,000 fatalities. The United States now has the most infections, at almost 105,000.