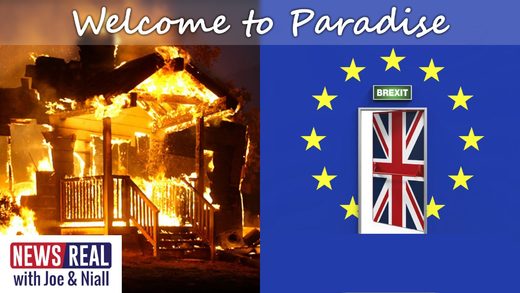 When Trump weighed in on the record-breaking California wildfire season last week, he was - as usual - roundly condemned in the media for 'insensitivity', 'stupidity' and 'ignorance'. But what if his comments about forest management and climate change were actually well-informed?
This week on
NewsReal With Joe & Niall
, your hosts discuss the raging California wildfires and the pretentious ideological beliefs that lead federal and state authorities to go way beyond their station by attempting (and repeatedly failing) to tackle
local
environmental problems via hare-brained measures intended to 'save the planet'.
Also discussed on this episode is the interminable 'Brexit' fiasco. This political wildfire flared again last week when May's govt announced that 'a Brexit deal' had been settled with the EU. 'Brexit' in name only, the deal effectively keeps the UK in the EU, which led to the mass resignation of govt ministers and the threat of an imminent leadership challenge.
Watch to learn why the UK
cannot
leave the EU...
Running Time:
01:27:46
Download:
MP3