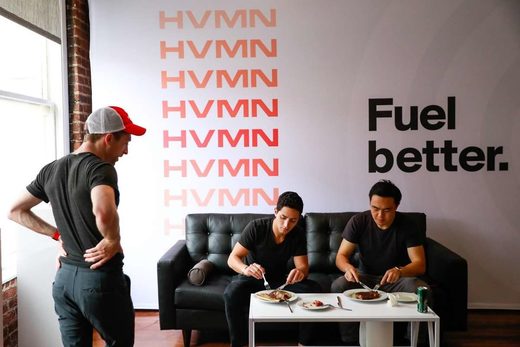 As a meat-loving child, Ryan Parks cried on the way home from a video rental store when his parents said, as a joke, they were becoming vegetarian.
It came as little surprise when Parks, now 31, told his folks he'd begun a "carnivore diet" back in July.
His typical Whole Foods haul includes 6 pounds of ground beef or rib-eye steak, cheese and butter. U.S. dietary guidelines recommend less than 10 percent of calories per day come from saturated fats, in which Parks' food staples are replete.
At first, "I thought it was crazy," said Parks, who works in sales at San Francisco software company GitHub. "That's everyone's reaction: 'There's no way you can eat that way and not die.'"
The first week of the carnivore diet was tough, especially on his digestive system. Fiber adds bulk to stool. Without it, bowel movements were "not enjoyable," Parks said. Still, he felt lighter and more energized. He no longer required Diet Coke to fend off an "undeniable urge to nap" after lunch. The carnivore diet stuck.
A small number of people around Silicon Valley are eschewing dietary guidelines in favor of an all-meat diet, a practice they call "carnivory." Similar to high-fat ketogenic diets used by epileptics and bodybuilders, it does not require calorie-counting or intense exercise. These modern carnivores eat from the animal kingdom exclusively, which means no fruits, vegetables, grains or sugar - just meat and fat.
No formal studies exist on the health benefits or dangers of human carnivory, and a lot of questions remain unanswered.
Health
professionals
heavily criticize the diet. But in the absence of clinical research to support them, carnivores are sharing their experiences in Facebook groups and other online forums in an effort to crowdsource anecdotal evidence.
A Reddit group called
"zerocarb,"
where carnivores post food photos and questions about managing a carnivorous diet, grew its subscribers to 60,000, up 400 percent from a year ago. One of the largest Facebook groups dedicated to the topic,
World Carnivore Group,
shot to 22,000 members since it was created in December.
Parks said he dropped about 25 pounds on the carnivore diet, though the assertion that an all-meat diet leads to weight loss is not supported by science.

Comment: They just finished saying there's no clinical research, so why would they even bother saying that "weight loss is not supported by science"? The fact is, the mechanism for weight loss on the carnivore diet is well known and anecdotally, almost everyone who needs to lose weight does so on the carnivore diet, whether or not it's "supported by science".


When co-workers notice his weight loss, Parks said, "I tell them I bike." He said he doesn't worry about portion size. "I eat whatever I want, whenever I want."
After giving up plant-based foods, he also lost a romantic partner, a vegan who Parks suspects was put off by his diet.
Tech workers in the Bay Area go to extreme lengths to get an edge on their peers. Some
software engineers
say a ketogenic diet increases stamina and mental clarity for coding. A handful of
tech
executives,
including Twitter and Square CEO Jack Dorsey, don't eat for hours or days at a time, a routine called intermittent fasting. The benefits of these diets range from weight loss to more energy to enhanced productivity, which explain their popularity in the Silicon Valley workforce.
Over the last year, Geoff Woo, a self-described "biohacker" and co-founder of Hvmn (pronounced "human"), a startup selling "human enhancement" supplements, said he's observed an offshoot of ketogenic dieters transition into carnivory, seeking the potential fringe benefits of going from low-carb to no-carb.
"I think that's part of the hacker ethos," Woo said. "People are tinkering, figuring stuff out and sharing stories."
Paul Benigeri, an early Hvmn employee, keeps the communal fridge stocked with short ribs and New York strip, which he sears on a hot plate for 15 seconds on each side for lunch. As a treat, he makes steak tartare - a dish made from raw ground meat and egg yolk - and shares with co-workers who can stomach it.
Benigeri said the carnivore diet makes him feel clear-headed. His mind stays sharp through repetitive tasks, such as answering emails or calling job applicants. Plus, a low-carb diet eases the inflammation of his sports injuries, he said.
Fans of the diet share similar stories on Reddit. A 27-year-old who goes by
Fuzia
said he's improved his reaction times while playing video games; user
GreenTeaPopcorn
got her "sex drive back."
"As for primary research demonstrating the health risks of plant-based diets or the health risks of meat-based diets, to the best of my knowledge, there are no randomized trials of either, which is precisely the problem," said Dr. Georgia Ede, a former staff psychiatrist at Harvard University who left the field to write and speak on the potential benefits of carnivory.
She began treating her migraines with a meat and seafood diet in May and lost 19 pounds.

Comment: But that weight loss was not supported by science.


Eating red meat
is associated with a slight increase in risk of death from cancer and heart disease, studies show. In 2015, a
report from the World Health Organization
put processed meats - such as hot dogs, ham and bacon - in the same category of cancer risk as tobacco smoking and asbestos. This does not mean that they all present the same danger, said Dr. John Ioannidis, the chairman of disease prevention at Stanford University.
Ede rejects those studies condemning red meat. She argues that most research comes from monitoring disease rates and lifestyle factors, such as diet, exercise and prescription drug use, in surveys of large populations. Researchers look at the results and try to draw conclusions about what caused instances of disease.
"It's not an experiment," Ede said. "It's a questionnaire-based guess."
Ioannidis said he worries a person on the carnivore diet lacks essential vitamins and minerals obtained through a more conventional diet.
"It's not something I recommend," Ioannidis said. "It's a little bit like shooting a target with one of your two eyes. You can shoot the target, perhaps, but why close one of your eyes?"
He has the same concerns about strict vegan diets.
"It's an extreme," Ioannidis said of carnivory, "and extremes are unlikely to be the best choices, both in terms of physiology and the little we know from clinical research."
Carnivory has another downside that environmentally minded dieters can't ignore.
Meat production depends on huge amounts of pesticides, fertilizer, fuel and feed while releasing greenhouses gases, manure and other pollutants into our air and water. According to a
recent study
published in the journal
Nature,
a global shift toward a mostly plant-based diet is necessary to combat the worse effects of climate change.

Comment: The environmental claim has been thoroughly debunked. See:
Parks, the sales employee, said he doesn't know nearly enough about the environmental toll of his diet but wants to learn more. He tries to reduce his impact by buying organic meat that's pasture-raised and grass-fed whenever possible. (A researcher who looked into the issue
found grass-fed beef
offered no clear greenhouse gas reductions.)
Benigeri shrugged off the costs of his diet, saying the environmental impact is not one of the "core deciding factors" for how he eats. He mostly lurks in online carnivore forums and avoids engaging with plant-based foods evangelists.
Travis Statham, a software engineer at Foursquare, the New York location-app maker, is a moderator on the zerocarb Reddit group and spends hours a week monitoring it to keep it free of harassment.
Each week the group blocks three to four vegans who try to convert members to veganism or post "snide" comments about new observational studies they say debunk the carnivore diet. Statham said members just want to discuss their experiences in peace.
"We do this because the science convinces us and not because we're trying to make the freshest cult on the block," Statham said.
Carnivore eaters don't have the numbers to claim cult status, yet. The first-ever "carnivory con," or convention, will bring about 200 meat-eaters to Boulder, Colo., in March for a day of research presentations on the science of plant-free diets and a meaty lunch.
The community does have an icon.
Many carnivores credit the diet's founding to Owsley "Bear" Stanley III, who was famous as a
sound engineer
for the Grateful Dead and used the profits of his psychedelics business to finance the band's success. He maintained a carnivore diet for decades, until his death in a car crash in 2011, and evangelized meat consumption in
essays
and interviews.
"As my mom puts it, per Bear's instructions, she fed me nothing but mother's milk and filet mignon," Starfinder Stanley, Owsley's son, said in an email.
Today, Starfinder Stanley eats a low-carb diet and works as a veterinarian in Sebastopol.
Melia Russell is a San Francisco Chronicle staff writer. Email: melia.russell@sfchronicle.com Twitter: @meliarobin