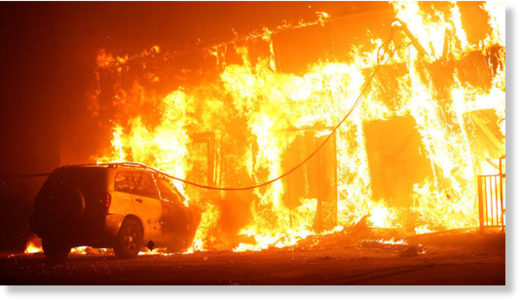 Raging wildfires across California have forced 157,000 people from their homes, and have led to at least one death in the north of the state, officials say. A blaze is also approaching LA Zoo.
Fanned by high overnight winds, multiple fires have ripped through the state of California in recent days. In Northern California, a
blaze
visible by satellite consumed the town of Paradise on Thursday and had burned nearly 110 square miles by Friday morning.
The director of the California Governor's Office of Emergency Services told AP that the fire has claimed lives, but that the number of deaths is still unknown. The blaze sent residents fleeing, and currently threatens the city of Chico, home to 90,000 people.
Parts of the city have been evacuated, as firefighters struggle to contain the inferno at the city limits.
Hundreds of miles south, authorities in Los Angeles and Ventura counties have ordered the evacuation of 75,000 homes, as a wildfire bears down on the beach town of Malibu.
Conditions in Oak Park, just north of Malibu, have been described as "surreal" and "horrific
."
Video from the scene shows firefighters battling to extinguish burning buildings, as the sky glowed orange and filled with smoke.
Near Oak Park, the town of Thousand Oaks - still reeling from a mass shooting on Wednesday night - has also been threatened by the encroaching blaze.
In Los Angeles, a brush fire broke out near Griffith Park on Friday morning, behind the Los Angeles Zoo. Fire engines were not able to reach the fire, and firefighters were forced to hike in on foot and hose down vulnerable areas, while a firefighting helicopter hovered overhead.
Zoo staff have begun to evacuate some animals - starting with the lemurs - but the fire has not spread as fast as the Malibu blaze due to lighter winds.
Animals in the wild have been less lucky. One CBS reporter
said
she has seen rabbits cowering from the smoke, and running around in confusion.
"There are quite a few of them we've seen, trying to escape the flames and get out, get to safety, because their home, their habitat, is on fire," she said.