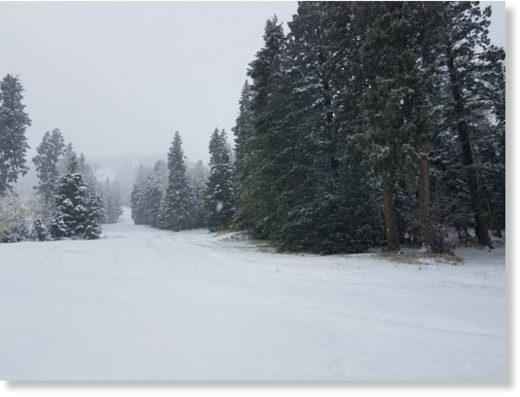 With more than six inches of snow falling at Pajarito Mountain on Halloween, General Manager Tom Long is optimistic that Mother Nature will be more cooperative this year and provide the area with a good ski season.
In the first major snow of the season, the bottom of Pajarito Ski Area received six inches of snow,
while the top received more than eight inches. Last year, the ski area received almost no natural snow,
and was forced to operate at reduced capacity throughout the winter.
Now, with snow falling so early and the long term forecast pointing toward more winter weather moving forward, Long believes that everything is on track for Pajarito Mountain to open its lifts for skiers on Dec. 21.
"We are anticipating that Mother Nature will wake up from last year's nap and give us a good, long ski season," Long said.
He said that compared to good years in the past, this year's Halloween storm was "more aggressive" and laid a good amount of snow down
that will be built up in the next few months.
Long and other local skiers will be more reliant on natural snow this year than others, because Pajarito's operators will not be able to do as much snowmaking. The mountain relies on water run-off from the previous season to create the first round of manmade snow. But because last year provided so little natural snow, that process has been put on hold.
"We would normally start making snow right around this time of year, but it will definitely be later this year," Long said.
He added that the long term forecasts look good, and that he believes natural snow will make up for the lack of manmade snow by the time the mountain is scheduled to open.
Long said, "All signs point to a very good ski season."