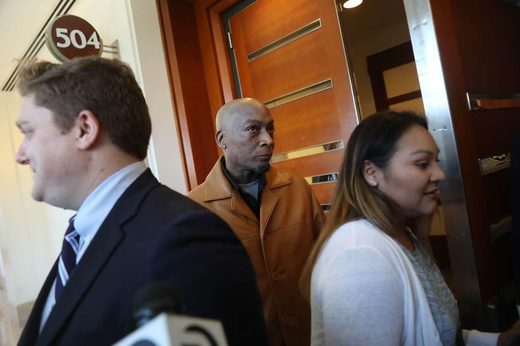 A San Francisco judge cast doubt Wednesday on a jury's
$289 million damage award
to a former Bay Area groundskeeper who was diagnosed with cancer after frequently spraying school grounds with a widely used weed-killer manufactured by Monsanto Co.
Superior Court Judge Suzanne Bolanos said in a tentative ruling that she would likely overturn $250 million in punitive damages because there was no convincing evidence that Monsanto had knowingly manufactured a harmful product or acted "despicably" toward the plaintiff, Dewayne "Lee" Johnson. At a two-hour hearing later Wednesday, Bolanos suggested state law may also require her to throw out $31 million that jurors awarded for Johnson's reduced life expectancy.
The company's lawyer, George Lombardi, argued that the entire verdict should be overturned because there was insufficient evidence that its herbicide, glyphosate, commonly marketed as Roundup, is dangerous or caused Johnson's cancer. Johnson's lawyer, Michael Miller, urged the judge to respect the jury's verdict.
Bolanos did not announce a final ruling, but showed little indication during the hearing that she was reconsidering her tentative decision on punitive damages. "I'm not following your argument," she told Miller at one point after the lawyer said Monsanto had failed to properly test its product or study its effects.
Glyphosate, the world's leading herbicide, was classified as a probable human carcinogen in 2015 by the International Agency for Research on Cancer, an arm of the World Health Organization. California health officials also list the chemical as a cause of cancer. But the U.S. Environmental Protection Agency has found it to be a safe product, and it remains legal in the United States and Europe.
Johnson, now 46 and a Vallejo resident, was diagnosed with non-Hodgkin's lymphoma in October 2014 and with a more aggressive form of the cancer in March 2015. One of his doctors testified that he is unlikely to survive to 2020. He attended about half of Wednesday's hearing and did not comment afterward.
Nationwide, about 4,000 lawsuits have been filed against Monsanto by individuals who claim they were sickened by Roundup. Johnson's case was the first to go to trial.
He was a groundskeeper and pest-control manager for the Benicia Unified School District from 2012 until May 2016. His job included spraying glyphosate, in the high-concentration brand called Ranger Pro, from 50-gallon drums 20 to 30 times a year for two to three hours a day.
He
testified he wore protective clothing,
including a sturdy jacket, goggles and a face mask, but said he couldn't fully protect his face from wind-blown spray. And twice,
he told the jury,
he got drenched with the herbicide - once when a spray hose became detached from a truck that was hauling it, and another time when a backpack container he was carrying leaked.
After hearing further testimony from opposing medical researchers and physicians, the jury found unanimously in August that Monsanto was responsible for Johnson's illness and should have known of the dangers posed by glyphosate. In awarding punitive damages, the jury found that the company had "acted with malice or oppression" when it supplied the herbicide to Johnson's employer without disclosing its possible life-threatening effects, and when company officials failed to return Johnson's phone calls after he became ill.
But Bolanos, in her tentative ruling, said Johnson's lawyers "presented no evidence that any Monsanto employee believed at any time that exposure to Monsanto's (glyphosate) products cause" non-Hodgkin's lymphoma. Even if a Monsanto official deliberately ignored Johnson's queries, which the company denies, "not returning a phone call does not rise to the level of despicable conduct," the judge said.
At the hearing, she also questioned whether the largest portion of Johnson's remaining damage award, $1 million for each year of his life expectancy before the cancer diagnosis, was authorized by California law.
Miller said state appellate courts have approved damages for "loss of enjoyment of life for the years that are taken away from you."
Not so, said Lombardi, Monsanto's lawyer."The law is that you do not get awards of future economic damages for periods of time beyond your (current) life expectancy," he said. If Bolanos agrees, the damage award would be reduced to just over $8 million.


Bob Egelko is a San Francisco Chronicle staff writer. Email: begelko@sfchronicle.com Twitter: @BobEgelko