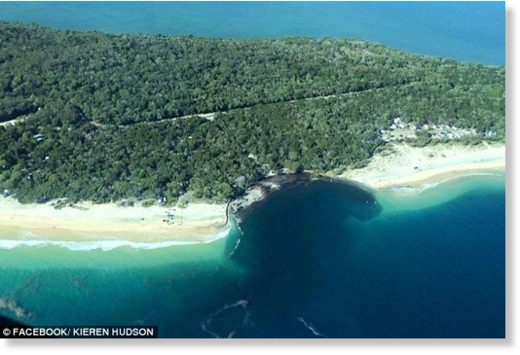 A large chunk of a popular Queensland beach has sunk into the sea leaving people fearing for the worst.
It is the second time in three years a sinkhole has appeared at Inskip Point beach. In 2015 a car, caravan, a camper trailer and tents were swallowed by the sinkhole,
ABC reported
.
Double Island Point Fishing Charters operator Greg Pearce was heading out on a fishing charter on Monday morning when he noticed the part of the picturesque beach missing.
The sinkhole looked about 7.5m deep, he told
Daily Mail
Australia.
'Yesterday looked perfectly normal, people were sunbaking. This morning when I came out you could see there'd been a fair bit of erosion.'
'The whole beach, where the day before was dry land, was gone.'
He posted the footage on Facebook, which sparked comments from people fearing that there might be more erosion to come.
'There will be no beach left shortly,' one person said.
'Maybe not a good idea to go camping on the weekend?' another person asked.
Geotechnical engineer Allison Golsby told the ABC in 2015 there were fears Inskip Point might one day disappear.
Queensland Parks and Wildlife Service say rangers are monitoring erosion.
'The nearshore landslip, located south of the roundabout on Inskip Road, was first brought to the attention of rangers this morning and was immediately assessed,' a spokesman said.
'The erosion has not affected any campsites and is not affecting access to the barge to Fraser Island,' he said.
'In the interest of public safety, Queensland Parks and Wildlife Service will continue to closely monitor the site.'
He said it was likely the erosion had been caused by the undermining of part of the shoreline by tidal flow, waves and currents.
'When this occurs below the waterline, the shoreline loses support and a section slides seaward leaving a hole, the edges of which retrogress back towards the shore.'