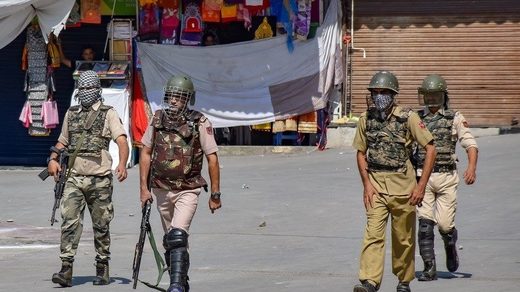 India has canceled a meeting with Pakistan over what it calls the "brutal" killing of three of its policemen on Friday morning. A Pakistani senator took a swipe at India for "running from talks."
India had on Thursday confirmed a meeting between the two countries' foreign ministers in New York after Pakistani PM Imran Khan wrote to his Indian counterpart, Narendra Modi calling for the two countries to resume dialogue.
But on Friday, three Indian officers were shot dead by Hizbul Mujahideen militants in south Kashmir.
The India Ministry of External Affairs (MEA) on Friday cited the "brutal killings," as well as Pakistan's reported release of postage stamps glorifying terrorism, as reasons for branding any dialogue "meaningless" and calling the meeting off.
"Now, it is obvious that behind Pakistan's proposal for talks to make a fresh beginning, the evil agenda of Pakistan stands exposed and the true face of new Prime Minister Imran Khan has been revealed to the world in his first few months in office," MEA spokesperson Raveesh Kumar said.
Pakistan refused to take the blame and lashed back out at India. Foreign Minister Shah Mahmood Qureshi
said
that India has "once again wasted an opportunity for peace." He added that the refusal shows India's government is "facing internal pressures" and that it's already preparing for elections next year.
Pakistani Senator and former leader of the opposition party Sherry Rehman took to Twitter to condemn the cancellation, saying:
"Shame that on #InternationalPeaceDay India has refused to talk peace with Pakistan in even a routine manner at the @UN on the sidelines of the General Assembly. Running from talks won't change the fact that this time Indian repression in Kashmir has been noticed in a UN report."