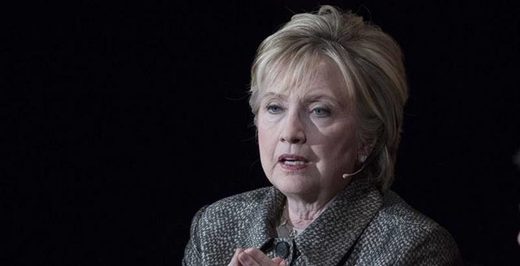 As the outrage over President Trump's enforcement of immigration law continues, leaders in the Democrat party are speaking out in full force.
Twice failed presidential candidate Hillary Clinton is one of them.
There's just one problem. Back in 2014 when Clinton was gearing up for another presidential run, she argued children of illegal immigrants aren't entitled to stay in the United States.
"Should they [children] be able to stay here? It's safer," CNN anchor Christiane Amanpour asked during an interview.
"It may be safer, but that's not the answer," Clinton said. "We need to provide more border security in southern Mexico. They should be sent back as soon as it can be determined who the responsible adults in their families are."
"All of them who can be should be reunited with their families," she continued. "We have to send a clear message: just because your child gets across the border, doesn't mean your child gets to stay. We don't want to send a message that is contrary to our laws or that will encourage more children to make that dangerous journey."
President Barack Obama made the same argument President Donald Trump has been making about the problems with current immigration law.
"Do not send your children to the border," Obama said. "The problem is that under current law, once those kids come across the border, there is a system in which we're supposed to process them, take care of them until we can send them back."
The first major unaccompanied minor crisis occurred in 2014 when tens-of-thousands of illegal alien children crossed the southern border with Mexico without their parents. Today, that crisis continues. While many illegal immigrants are adults with children crossing as "family units," the vast majority are unaccompanied minors.
Here are the current numbers provided by the White House:
More than 110,000 UACs have been released into the interior of the United States since the beginning of FY 2016, according to the Department of Health and Human Services.
The number of UACs at ports of entry increased by 636 percent from April 2017 to April 2018.
Border Patrol apprehensions of UACs were 331 percent higher for April 2018 than April 2017.
Only 3.4 percent of UACs encountered at the border in FY 2014 from countries other than Mexico had been removed or returned as of FY 2017.
UAC cases pending in immigration courts now total 78,000, up from less than 3,500 in FY 2009.
Katie Pavlich is the Editor at Townhall.com. She is a
New York Times
best selling author. Her latest book
Assault and Flattery: The Truth About the Left and Their War on Women
, was published on July 8, 2014. Follow her on Twitter @katiepavlich.