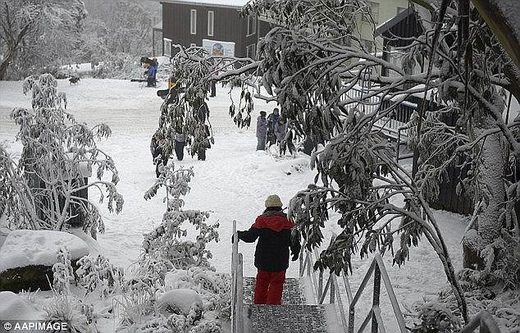 PLUMMETING temperatures have caused freezing conditions and snow across the country - and more severe weather is coming.
A FREEZING cold snap has blanketed parts of the country in fluffy white snow.
Australians have packed on the layers as
icy chills continue to blow
across southeast Australia thanks to the cold front that's been pushing through the Great Australian Bight since Wednesday.
Severe weather warnings have been issued for parts of New South Wales today as strong gusty winds with cold temperatures and showers are forecast.
The Bureau of Meteorology said a complex low over the Tasman Sea was directing a "vigorous westerly airstream" over NSW ahead of a south to south-westerly change which would move along the coast today.
Damaging winds averaging 60 to 65km/h are predicted with peak gusts of more than 90km/h.
A south to south-westerly wind change is forecast to move along the coast, reaching the Hunter coast by late morning.
Showers may bring damaging wind gusts along the coastal fringe in areas including Gosford, Newcastle, Sydney and Wollongong.
Sheep graziers are also being warned about severe weather today in the Southern Tablelands and Snowy Mountains, as well as parts of the Northern Tablelands, Illawarra, Central Tablelands, South West Slopes and Australian Capital Territory.
The Bureau said there was a risk farmers could lose lambs and sheep exposed to these conditions.
Snow has already fallen in parts of the Tablelands this morning, with people in Guyra posting "winter wonderland" videos of flakes blanketing the area.
"My partner has only seen snow once before when he was a kid so it's a success for me,"
wrote Antonio Paracin on the North Coast Storm Chasers Facebook group.
"Anyone that is coming to Guyra be careful the road is wet and slippery."
Mr Paracin said there was more than 1cm in some parts.
Others posted temperature drops as low as 3.5C when they woke in Casino this morning, with weather apps telling them it felt like 0.2C.
The further drop comes after temperatures plunged across the country at the weekend, with the mercury falling below 10C in every capital except Darwin.
Yesterday morning, Camden was one of the coldest locations, dropping to 0.2 degrees at 6am.
The Snowy Mountains were hit with about 60cm of snow and temperatures were below -5C.
In Queensland this morning, the Sunshine Coast experienced its coldest temperature of the year so far, hitting 4.6C at the airport.
Coolangatta had its coldest June morning this year at 0.6C just before 5am.
The coolest temperature was recorded just west of the Gold Coast at Beaudesert, where it reached 0.1 C at 5am.
Brisbane, Gold Coast and the Sunshine Coast are forecast to reach maximum temperatures of 19C today, with sunshine and gusty winds expected.
The Bureau has also issued a warning for dangerous surf and swell conditions today for coastal parts of the Hunter, Sydney, Illawarra, Batemans Bay and Eden.
NSW Police Force, Marine Area Command warned conditions would be hazardous for coastal activities such as rock fishing, boating, and swimming.