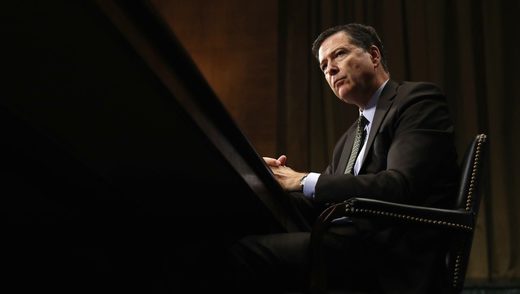 For James Comey, the heat is on.
The former FBI director's highly anticipated memoir, "A Higher Loyalty: Truth, Lies, and Leadership," hasn't hit bookshelves yet - that happens on Tuesday - but already there have been copies leaked to the media, which may be a fitting chapter in the Comey saga.
Excerpts from the book and clips from his first TV interview since being fired last year show Comey
won't be shying away from criticizing
the man who cut his FBI career short, President Trump, even taking cheap shots such as describing the president's ties as being "too long."
And yet, with all the fanfare Comey seems to be getting -
his book is poised for unprecedented sales according to his publisher
- he is also facing a great deal of flak, including from members of Congress taking a renewed interest in the controversial figure.
Three top Republican chairmen this week pressed the Justice Department to turn over Comey's memos. House Judiciary Chairman Bob Goodlatte, R-Va., House Oversight and Government Reform Committee Chairman Trey Gowdy, R-S.C., and House Intelligence Committee Chairman Devin Nunes, R-Calif., wrote in a letter that there is "no legal basis for withholding these materials from Congress."
They
set a deadline for April 16
, one day before Comey's book is released. Portions of these memos were leaked to members of the media.
Comey, who was fired by Trump in May 2017, testified before a congressional committee that he wrote memos detailing various conversations he had with Trump. In one memo, Comey claimed that the president pressured him to end the FBI's investigation into former national security adviser Michael Flynn. In another, Comey recalled how Trump demanded loyalty from him.
Nunes,
in an interview with Fox News on Friday
, took issue with Comey's book in particular, noting what appeared to be a double standard. From the excerpts that have been reported, "there is much in the book that comes from the memos," he said. Nunes said Congress has had limited access so far, and declared not only should the memos be made available to the committees, but also to the public.
There remain complications, however. A federal judge ruled in February that the memos must remain secret because they could negatively impact special counsel Robert Mueller's Russia investigation.
Separately, Gowdy condemned Comey's book as being
"beneath the dignity"
of the FBI and said he could only guess that Comey wasn't disseminating classified information. "I'm really disappointed, whether or not the intelligence community vetted this book," Gowdy told Fox News on Friday. "I hope he let them do it so he's not disseminating classified information. My guess is he did."
Ex-FBI supervisory special agent James Gagliano, who previously warned that Comey was placing himself in
"perjury trap position"
with his upcoming book, made the case that some revelations in his book, such as discussing the Russia inquiry, are
breaking with FBI protocol
.
"JAMES COMEY BOOK ... Section 2.4 of FBI's Prepublication Review Manual covers: PROHIBITED DISCLOSURES ... FBI Employees shall not disclose "information that relates to ... the substantive merits of any ongoing or open investigation or case." Just going to leave that right here ...," Gagliano said in a recent tweet.
A more direct way Comey might be pressed to interact with Congress, with whom he was
previously tight-lipped on certain matters he seems inclined to open up about in his book tour,
is through testimony.
The Justice Department's inspector general released a report Friday, which found Comey's former deputy, Andrew McCabe "lacked candor" on four separate occasions, including three times while under oath, in connection with a leak to the
Wall Street Journal
. The watchdog assessment set the basis for McCabe to be abruptly fired from the FBI last month, less than two days before he was set to retire with a full pension.
Though Comey was not the subject of the IG report - he does face future trouble from inspector general Michael Horowitz, who is expected to release a larger report in the coming weeks on the FBI's actions during the 2016 presidential election - he is mentioned repeatedly.
For instance, one of those occasions where McCabe was found to have "lacked candor" involved the former FBI deputy director misleading Comey about what he authorized the FBI aides to tell a reporter.
Another section in the 39-page report describes how
Comey "excluded" McCabe
from a meeting regarding the FBI's investigation into former Secretary of State Hillary Clinton's unauthorized email server.
In response to the report, some are calling for testimony from McCabe and others, which could include Comey.
Responding to a section in the IG report that details
a "very dramatic" call
McCabe had with a top Obama DOJ official about the agency's Clinton Foundation probe, Tom Fitton, who heads the conservative watchdog group Judicial Watch, said there could be a hearing in short order if Congress chose to take action.
"They could have a hearing in three days," Fitton told the
Washington Examiner
, adding, "bring in Mr. McCabe and other mentioned in the report."
Rep. Ron DeSantis, R-Fla., one of several Republicans calling for a second special counsel to investigate bias and wrongdoing in the Justice Department and FBI, responded to the "damning" IG report, saying Comey "has a lot to answer for."
"Damning report re: Andrew McCabe by the DOJ IG that underscores the dysfunction at the senior levels of the FBI during the tenure of James Comey, who himself has a lot to answer for re: leaks, disclosure of classified information, and lack of candor to Congress and the President," tweeted DeSantis, who sits on both the Judiciary and Oversight Committees.
Meanwhile, Democrats in Congress, some of who called for Comey's ouster due to his handling of the Clinton emails investigation, appear to have no appetite now to challenge him when his media blitz is certain to bring bad press for the president.
Rep. Jim Himes, D-Conn., said during a CNN interview last week, that critics of Comey, as well as Mueller,
"will rot in hell."
Comey could also face legal retribution, if Trump has his way.
"James Comey is a proven LEAKER & LIAR. Virtually everyone in Washington thought he should be fired for the terrible job he did-until he was, in fact, fired. He leaked CLASSIFIED information, for which he should be prosecuted. He lied to Congress under OATH," Trump tweeted Friday. "He is a weak and untruthful slime ball who was, as time has proven, a terrible Director of the FBI. His handling of the Crooked Hillary Clinton case, and the events surrounding it, will go down as one of the worst 'botch jobs' of history. It was my great honor to fire James Comey!"
Some of Trump's most vocal supporters agree.
Former Secret Service Agent Dan Bongino said recently that Comey and former Attorney General Loretta Lynch could face
"very serious criminal liability"
in the form of obstruction of justice charges for possibly interfering in the investigation into former Secretary of State Hillary Clinton's unauthorized private email server. Some of the emails have been found to have contained classified information.
In the meantime, the White House is prepared to counter Comey, whose publicity tour starts in earnest when his first interview on ABC airs Sunday evening.
The Republican National Committee worked with the White House to
draft a 1,000-word talking points memo
for Trump, his administration, and GOP officials across the country to help the Right counter and discredit Comey during his book tour. The effort has also spawned the website
Lyin' Comey.
Among the salacious claims Team Trump will be up against, within the context of an ongoing investigation looking into possible collusion between his 2016 campaign and Russia, are Comey's assertions that Trump requested he launch an investigation into accusations detailed in the so-called "Trump dossier" that claimed Trump hired Russian prostitutes to perform sex acts involving urine during a stay at the Ritz Carlton Hotel in Moscow. Comey also accuses Trump of employing mafia-style tactics, comparing him to
"Sammy the Bull."