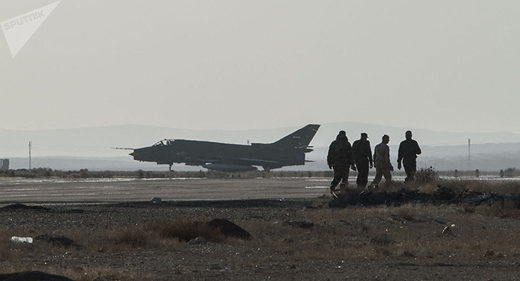 A T-4 airbase in the Syrian province of Homs has been hit by a missile strike, local media reported, suspecting the United States. However, Pentagon did not confirm the reports of involvement.
A Syrian T-4 airbase in the Homs province has been hit by rocket fire, according to SANA news. According to the agency, the strike caused casualties. It was also reported that the Syrian Air Defense Force opened fire on the upcoming missiles and intercepted several.
An informed source told Sputnik on Monday that the Syrian Air Defense Force
shot down the missiles
. "The Syrian Air Defense Force has destroyed a few missiles, which attacked the T-4 air base. The missiles fell in the vicinity of the airfield," the source said.
In contradiction with SANA news' reports, the source said that there were no casualties as a result of a missile strike, and the airbase did not suffer any material damage.
There is an unconfirmed footage circulating on social media which allegedly shows unidentified jets flying over Lebanon toward Syria.
There was no immediate confirmation on the origin of the objects or whether they were airplanes or missiles.
It is also still not clear who's behind the attack.
According to Syria's SANA news agency, the attack might have been carried out by the United States.
However, a
Pentagon
representative told Sputnik that the US Defense Department is aware of the alleged US missile strike, but did not confirm the reports.
"We are aware of the reports, we have nothing to confirm," a Pentagon representative said commenting on the reports of the US involvement in the attack.
In turn, Lebanon's Al Mayadeen broadcaster reported that the missiles were coming from the Mediterranean Sea through
Lebanon
.