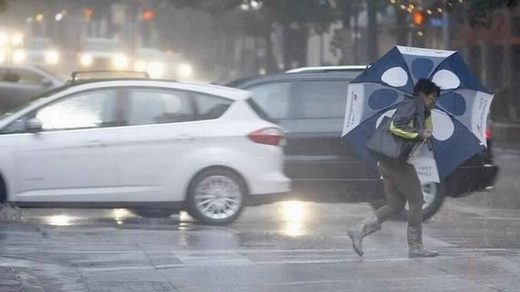 In sports terms, the last day of February was like a walk-off home run or a Hail Mary touchdown pass for the win.
A whopping 4.72 inches of rainfall at Dallas-Fort Worth Airport on Wednesday pushed the region's
official rainfall total from 6.59 inches to 11.31
, according to the National Weather Service office in Fort Worth.
The February record was broken "only over the past seven to 10 days or so," said Matt Stalley, a meteorologist with the weather service in Fort Worth. "The first half of the month was fairly dry.
"We've had a really good batch of moisture from the Gulf of Mexico and numerous disturbances that have brought a lot of rainfall," Stalley said.
The rain has cleared out of Tarrant County for now but could return to mess with the weekend. There's a 20 percent chance of rain and thunderstorms beginning Saturday night, which increases to 30 percent on Sunday. Monday brings another 20 percent chance of showers and thunderstorms. High temperatures are forecast to stay between 60 and 70 by the NWS.
Even if there hadn't been a drop of rain Wednesday, last month would still have been the third-wettest February in the 120 years since records have been kept, trailing only 1997 (7.40 inches) and 1945 (6.96 inches).
Normally, North Texas averages 2.66 inches of rain in February,
according to the weather service.
Stalley said there were 11 days in February of measurable rainfall at DFW Airport and three different flood watches issued - on Feb. 21, 23 and 28.
"Really, any time between around the 20th and the 28th we were dealing with some kind of ongoing river and stream flooding," he said. That span of days saw 10.72 inches of rainfall, he said.
The Dallas-Fort Worth area also tied the record for wettest winter overall, Stalley said, with 16.72 inches of rain. The only other winter as wet was 1931-1932.
It will remain a tie, as Stalley said the meteorological winter ends at midnight the last day of February.
Stalley said that the record wet weather shouldn't be seen as a sign of things to come regarding the North Texas climate.
"You can't really necessarily draw any meaningful conclusions from a week of heavy rain, which is basically what this was," he said. "The rest of the winter was actually pretty dry."